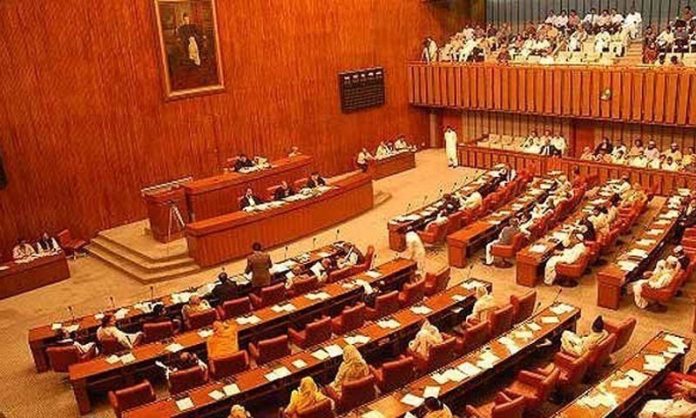 ISLAMABAD, Jan 27 (APP): Majority of senators on Friday urged the Muslim world to boycott the 'made in Sweden and Netherlands products' giving a strong message to the desecrators of the Holy Quran that disrespect against the holy book in the wake of freedom of expression would not be tolerated.
Taking part in the debate on the floor of the upper house of the parliament, Pakistan Peoples Party (PPP) Senator Syed Yousuf Raza Gillani, call for 'say no to Sweden and Netherlands products' and proposed to call the ambassadors meeting of the Organization of Islamic Cooperation (OIC) to cope with the burgeoning sacrilegious issues, particularly in the European countries.
He said the disgraceful incident could be an international conspiracy to create religious chaos and portray a negative image of Islam worldwide.
Minister for Law and Justice Senator Azam Nazir Tarar said Islam was a complete code of life and the Holy Quran had changed the social spectrum of life for its believers at every nook and cranny of the world.
Criticizing the extremist mindset of the so-called civilized society, he said "we must register our protest against this heinous crime being in the moral and constitutional parameters".
Jamaat-e-Islami's Senator Mushtaq Ahmed termed this vile act as "terrorism" and hinted that the series of desecration incidents of the Holy Quran could be a plot to impose a third world war.
He said besides condemning the sad incident, it had better follow the teachings of the Holy Quran and implement the Quranic system in the state in letter and spirit.
He said the government should call the ambassadors of Sweden and Netherlands and register their protest in the strongest terms.
Balochistan Awami Party (BAP)'s Senator Anwar-ul-Haq Kakar suggested writing condemnation letters to the governments of Sweden and Netherlands.
Jamiat Ulema-e-Islam (Fazl)'s Maulana Faiz Muhammad said the Holy Quran was a divine constitution and all Muslims are commanded to spend their lives accordingly.
He said non-Muslims who went through it (nderstanding Holy Quran) thoroughly, embraced Islam and that's why the ratio of Muslims was significantly increasing in western countries.
He said Islam provided equal rights to all people regardless of their religion, color, and creed including fauna and flora.
Pakistan Muslim League-Nawaz (PML-N)'s Senator Irfan-ul-Haque Siddiqui quoted A K Brohi, former high commissioner of Pakistan to India as saying that half of the world could be converted into Muslims if they read the Holy Quran in its actual context.
PPP's Senator Taj Haider said we should spread the teachings of the Holy Quran effectively because it not only belonged to the Muslims but it was for all kinds of species on this planet.
Pakistan Tehreek-e-Insaf (PTI)'s Senator Faisal Javed said non-Muslim countries also condemned the loathsome act of desecration of the Holy Quran on many occasions such as: Russia, Canada and New Zealand etcetera.
He was of the view to constitute an international council based on learned and qualified scholars who must have comparative studies, particularly in various religions for spreading the true message of Islam across the world.
PML-N's Senator Kamran Michael said certain extremist elements were trying to rob the peace of the world through such nonsense tactics.
PML-N's Senator Saadia Abbasi said the desecration of the Holy Quran was a crime against humanity and it had nothing to do with the freedom of expression.
Balochistan National Party's Senator Naseema Ehsan said the abhorrent act of desecration of the Holy Quran had hurt the religious feelings of millions of Muslims globally.
PML-N's Senator Mushahid Hussain Syed said the Parliament of Pakistan was the first one in the Muslim countries which had taken up this gruesome issue at the government level.
He proposed to raise this issue aggressively in the upcoming meeting of United Nations Commission on Human Rights in Geneva next month.
Minister of Defense Khawaja Muhammad Asif said the Holy Quran was part and parcel of our faith and we should devise a combined policy to overcome such issues of religious degradation.
He said the west should take adequate measures to control such incidents to occur in the future alleging that it was promoting extremism in the garb of freedom of speech.
Awami National Party's Senator Hidayatullah Khan said the Holy Quran was a divine command for all human beings and all times to come on this planet.
He said we must change our lifestyle and spend it according to the Islamic injunctions.
PTI's Senator Fida Muhammad said Sweden and Netherland should seek an apology at the diplomatic level, adding that no official delegation should be sent to these countries anymore.
PTI's Senator Sardar Gurdeep Singh said it was terrorism and if it was not controlled right now, it could have dire consequences on the global peace and tranquility.
BAP's Senator Danesh Kumar said no religion on earth produced negative thinking among its followers adding that this particular incident of desecration not only hurt the religious emotions of Muslims but it had also disappointed the minority communities of the country.
Muttahida Qaumi Movement's Senator Khalida Ateeb said the unity was required in all ranks of Muslim Ummah to defend the religious sanctities and values in the world.
National Party's Senator Muhammad Tahir Bizenjo said all religions were branches of the same tree and nobody should express disrespect to any other religion.
PML-N's Senator Dr Afnan Ullah Khan said Muslims were becoming weaker with every passing day adding that we should improve our economic condition to deal with such attacks on Islam.
PTI's Senator Prof Dr Mehr Taj Roghani said we must follow the teachings of Islam to bring reforms in our lives and scientific advancement in the society.
PTI's Senator Saifullah Abro said he said nobody could eliminate the Holy Quran, it would remain till doomsday.
He said the senators should go to Sweden and Netherlands embassies to register their protest.
PTI's Senator Fauzia Arshad said Muslim countries should give a strong message from the platform of OIC against such insulting incidents creating disharmony around the world.
JUI-F's Senator Kamran Murtaza said desecration of the Holy Quran was being done intentionally in a bid to ignite Muslims towards violence for portraying a negative image of Islam all over the world.
He said it had various aspects including social, political, religious and even economic adding that its one of aspects was to decrease the acceptability of Islam in the western societies.
PML-N's Senator Pir Sabir Shah said expressing resentment was not the only solution of desecration some western countries were involved in this crime from time to time.
Minister of State for Law and Justice Shahadat Awan said this insulting act was condemned by Muslims as well as the civilized people around the world.
He said Pakistan could not compromise on the prestige of Islam and religious sanctities and values at at all costs.