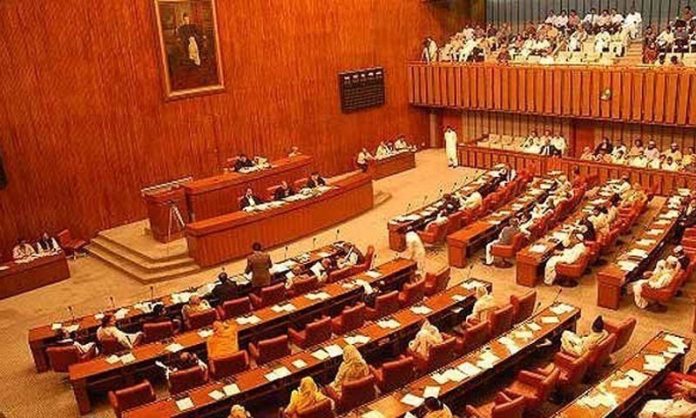 ISLAMABAD, Jan 27 (APP): Senate on Friday adopted a unanimous resolution to condemn the vile act of desecration of the Holy Quran in Sweden and the Netherlands which has hurt the religious sentiments of 1.5 billion Muslims around the globe.
The upper house of the parliament strongly protested the governments of Sweden and the Netherlands for allowing the extremist elements for this heinous crime in the garb of freedom of expression.
The Senate termed this disgraceful incident of Islamophobia as hateful and contrary to the principles of international law laid down in several instruments, including United Nations General Assembly resolution number 36/35 of 25th November 1981 which proclaims the Declaration on the Elimination of All Forms of Intolerance and Discrimination Based on Religion or Belief, Article 18 of the International Covenant on Civil and Political Rights, Article 18 of the Universal Declaration of Human Rights, the European Court of Human Rights and European Guidelines on Freedom of Religion or Belief which states that responsibility and freedom of expression go hand in hand and the latter should not incite hatred, shock or disturbance to any segment of society, the call of the World Conference on Human Rights upon all governments to take all appropriate measures to counter intolerance, United Nations General Assembly resolution 56/6 of 9th November 2001 on the Global Agenda for Dialogue among Civilizations, Resolution of the United Nations Commission on Human Rights 2005/40, and International Day to Combat Islamophobia.
According to the resolution, the Senate, therefore, stands for upholding the universal principles highlighted above and expresses the collective will of the state and people of Pakistan against the act of desecration of the Holy Quran by racists and extremists.
It said this vicious crime is a calculated and deliberate attempt to harm interfaith harmony, social peace, and religious tolerance, and ultimately it will prove to be divisive for peace and stability amongst countries, cultures and civilizations.
The Senate urges Muslims to maintain calm and composure, refuse to be intimidated by the hate-mongering Islamophobes, and promote Islam's message of peace, tolerance and universal brotherhood.
It also called upon the government to initiate prompt action on the following lines such as; to summoning the ambassador of Sweden and Netherlands and conveying the strong sentiments, shock and anger felt by the people of Pakistan against the desecration of the Holy Quran.
It also emphasized Sweden and Netherlands for firm lawful action against those who desecrated the Holy Quran.
It also proposed the government contact, coordinate and cooperate among the members of the Organization of Islamic Cooperation to take a unified position on this issue which is central to the core beliefs of all Muslims.
The Senate further asked to take up this highly important and urgent issue before the upcoming session of the United Nations Human Rights Council, which is meeting in Geneva next week.