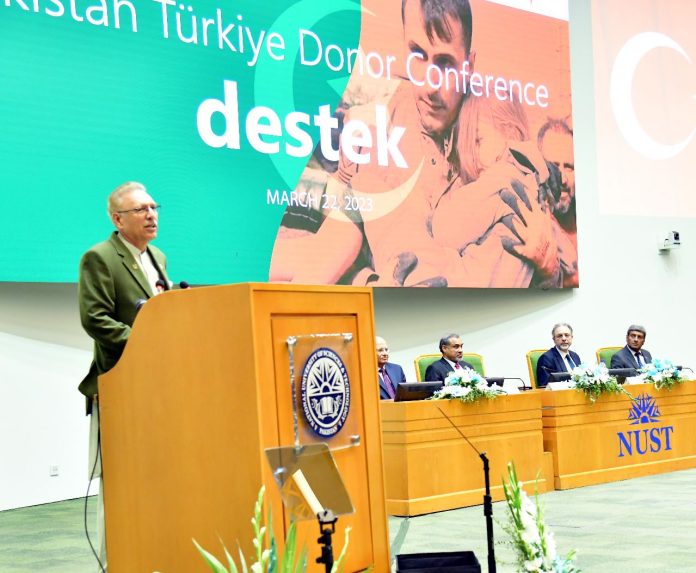 ISLAMABAD, Mar 22 (APP): President Dr Arif Alvi on Wednesday said in the wake of natural disasters, ensuring resilience, mitigation and adaptation was the key to deal with the aftermath of the calamities.
"What we need is to be ready and prepared for any calamity and show resilience during and after the devastation," he said in his address at the donors conference for Turkiye, organized here by the National University of Science and Technology (NUST).
President Alvi called for using safety measures while constructing new buildings and also stressed the need to use shear walls in the existing buildings to protect them from the earthquake shocks.
Recalling the massive earthquake that brought immense destruction in Turkiye last month, the president said as soon as the horrible images of large scale devastation started receiving, the government and the civil society of Pakistan immediately initiated rescue and relief work for the brotherly nation.
He said the people of Pakistan and Turkiye enjoyed long history of brotherly relations even before the creation of Pakistan in 1947.
He appreciated the Muslim Ummah's spirit for donations during natural calamities to reduce sufferings of the people affected by large-scale devastation.
He said the noble spirit among the Muslims was still alive due to the teachings of Holy Prophet Hazrat Muhammad (Peace Be Upon Him), who himself donated generously throughout his life.
The president also thanked the government and the people of Turkiye for their support to Pakistan after the devastation caused by floods last summer.
Earlier, Ambassador of Turkiye to Pakistan Mahmet Pacaci said the support from Pakistan was continued since the first day of the earthquake. He expressed gratitude that Prime Minister Shehbaz Sharif visited Turkiye after the natural calamity to express sorrow and condole the Turkish people.
He appreciated the efforts of the Government of Pakistan to support Turkiye in need of hour, which, he said, opened a dedicated bank account to collect donations for the affected Turkish people. Pakistan's National Disaster Management Authority also delivered 50,000 winter tents and 150,000 blankets, he added.
NUST Vice Chancellor Lt General (retd) Eng Javed Mahmood Bukhari said his university dispatched the first consignment of three tons relief goods to Turkiye within 36 hours of the devastating earthquake.
NUST had so far delivered three consignments of eight tons relief goods to the brotherly country, he added.