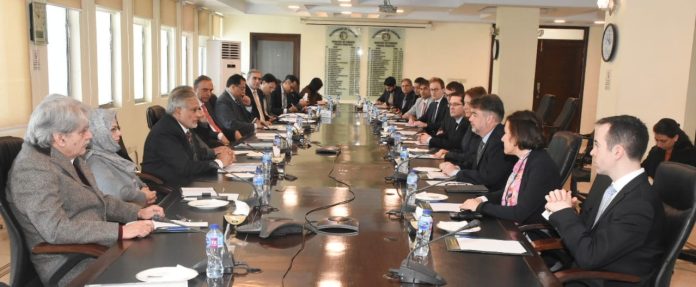 ISLAMABAD, Jan 31 (APP):The International Monetary Fund (IMF) and Pakistan here on Tuesday discussed and reviwed the economic and fiscal policies as well as the reforms agenda to accomplish the 9th review under the Extended Fund Facility.
According to press statement issued by the finance ministry, Federal Minister for Finance and Revenue Senator, Senator Mohammad Ishaq Dar held a meeting with IMF review Mission led its Chief, Nathan Porter.
The meeting was attended by IMF resident Representative, Ms. Esther Perez Ruiz; Minister of State for Finance and Revenue, Dr. Aisha Ghous Pasha; Special Assistant to Prime Minister on Finance (SAPM), Tariq Bajwa, SAPM on Revenue, Tariq Mehmood Pasha, Governor State Bank of Pakistan (SBP), Jamil Ahmed, Secretary Finance, Chairman Federal Board of Revenue (FBR), members of IMF delegation and senior officers from finance division.
The finance minister welcomed the delegation and shared long standing friendly relations with the IMF.

He briefed the mission on fiscal and economic reforms and measures being taken by the government in different sectors including bridging the fiscal gap, exchange rate stability and in energy sector for the betterment of the economy.
He apprised that reforms were being introduced in power sector and a high level committee has been formed for devising modalities to offset the menace of circular debt in gas sector.
Dar also extended gratitude to the Managing Director of IMF on continuation of talks and shared that as Finance Minister he had successfully completed the IMF programme in the past and that the government was committed to complete the current programme.
He further extended all his support to the Mission and committed to work together for reaching an agreement to complete the 9th review under Extended Fund Facility (EFF).
IMF Mission Chief, expressed his confidence that the government will meet the IMF requirements for the completion of the 9th review and hoped that Pakistan would continue towards its progress on the reforms in various sectors and complete the IMF Programme within time effectively.
He further added that IMF and Pakistan will be working together on fiscal reforms, the statement added.