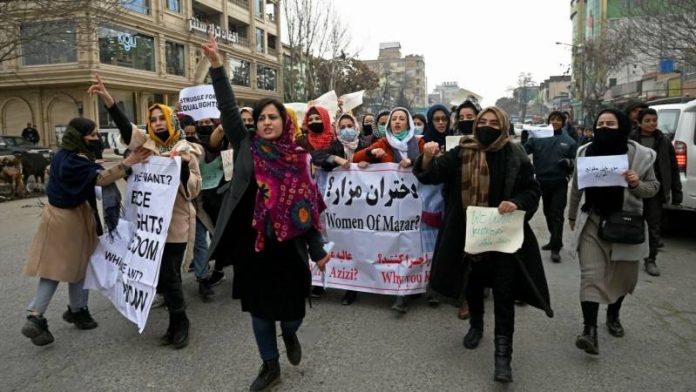 UNITED NATIONS, Mar 30 (APP):The Taliban authorities in Afghanistan must immediately release activists detained for advocating for girls' and women's rights, the UN human rights office, OHCHR, said Wednesday, expressing alarm over the ongoing arrests.
Since the beginning of the year, several civil society activists and journalists have been detained for speaking out against Taliban policies that restrict women and girls' access to education, work, and most other areas of public life.
"No one should be detained for speaking out in defence of their fundamental rights and the rights of others," OHCHR Spokesperson Jeremy Laurence said in a statement issued in Geneva.
"Arrest or detention as punishment for the legitimate exercise of fundamental rights, such as the rights to freedom of opinion and expression, is arbitrary under international human rights law," he added.
The statement comes in the wake of the latest arrest, which occurred on Monday, according to OHCHR.
Matiullah Wesa, head of PenPath, a civil society organization campaigning for the reopening of girls' schools, was detained by unidentified individuals who were travelling in an unmarked vehicle. His whereabouts are unknown.
The same persons also entered Wesa's home the following day and seized two of his brothers, who were released several hours later.
The OHCHR said other activists and journalists had also been detained with no clear information as to their whereabouts, well-being or any charges against them.
"Detainees' human rights must be respected, in particular the right to be informed of the reason for their arrest at the time of their arrest, the right to be promptly informed of any charges against them, as well as the right of access to family members and to legal representation," Mr. Laurence said.
He recalled that Afghanistan is a party to international human rights treaties. As such, Taliban leaders are obliged to respect and ensure the rights to freedom of expression, opinion and freedom of peaceful assembly, as well as to provide access to education and the right to work.
The Taliban returned to power in Afghanistan in August 2021 and have effectively barred girls and women from studying and working.
Addressing the security council earlier this month, the UN Special Representative there, Roza Otunbayeva, said Afghanistan remains the "most repressive country in the world" for women's rights.
On its part, Pakistan has been calling on Afghanistan's interim government to reverse restrictions on women and girls in the country.
Speaking at a press briefing on the outcome of the Women in Islam Conference in New York earlier this month, Foreign Minister Bilawal Bhutto Zardari said that the actions on Afghan women and girls are not the norm within the Muslim world.
"There is no other country on the planet, Muslim or otherwise, that condones depriving women and girls from the right to education," FM Bilawal then said.