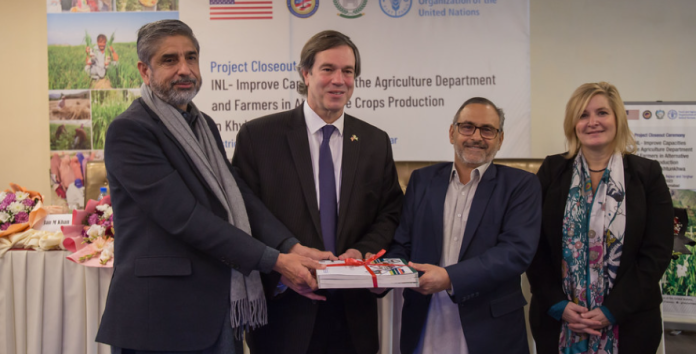 ISLAMABAD, Jan 25 (APP):U.S. Embassy Deputy Chief of Mission, Andrew Schofer, Wednesday joined U.S. Embassy Director of International Narcotics and Law Enforcement (INL) Lori Antolinez, Food & Agriculture Organization (FAO) Representative Florence Rolle, and KP Special Secretary of Agriculture Department Janat Gul to celebrate the successful completion of a $477,876 project to benefit the citizens of Khyber Pakhtunkhwa.
The project developed state-of-the-art training manuals, supported 350 farmers—including 80 women—on improved alternative agricultural technologies, and trained 16 master trainers from the Agriculture Extension Department from Mohmand, Khyber, Bajaur, and Torghar districts of Khyber Pakhtunkhwa (KP), said a press release issued by the US Embassy.
DCM Schofer reflected on the partnerships between the U.S. Government, FAO, and the KP Government: "This project has achieved promising results in terms of crop productivity enhancement and increased incomes, while also strengthening the relevant institutions which will continue to help farmers by providing them essential support for the production and marketing of their crops."
The agriculture training centers will impart skills and training in alternative crop production technologies, which promote sustainable economic growth and eliminate community dependency on illicit crop production.
Florence Rolle said the FAO partnership with the U.S. government and the KP agriculture department has been instrumental in generating best practices for the development of alternative livelihoods in the region.
Over the past four decades, the U.S. Government, through INL, has invested more than $1 billion dollars to improve citizen's security and enhance law enforcement capacity across Pakistan, the statement said adding that INL works in more than 90 countries to help combat crime and corruption, counter the narcotics trade, improve police institutions, and advance fair and accountable court systems.