RAWALPINDI, Dec 05 (APP):England pacers James Anderson and Ollie Robinson exhibited their class in reverse-swing bowling claiming four wickets each to help their side pull off a historic 74-run win over Pakistan at Pindi Cricket Stadium, Rawalpindi on Monday.
Captain Ben Stokes and Jack Leach took a wicket each for 69 and 56 runs, respectively.
Imam ul Haq (43) and Saud Shakeel (24) began Pakistan's innings from an overnight score of 80-2.
Imam, who had hit a ton in the first innings, remained unfortunate on the final day as he was out for 48 just 2 runs behind in scoring a half-century.
He was dismissed by Anderson in the first 20 minutes of the game, when the opener attempted to nudge the ball, giving it straight into Ollie Pope's gloves.
Pakistan reached 100 runs in the 35th over while 150 in the 49th over on the final day.
Saud Shakeel (63) and Mohammad Rizwan (42) were standing tall as Pakistan reached 169 for 3 at lunch.
But as the play resumed, Anderson bowled beautifully and took his second wicket of the day by dismissing Rizwan when he was just 4 runs away (46 off 92 balls) to score a half-century.
Rizwan, who was edged to the keeper, provided an 87-run partnership to the fourth wicket alongside Shakeel.
However, Rizwan achieved yet another milestone during the first Test as he got passed 5,000 runs in international cricket, becoming the 28th Pakistani player to achieve the landmark.
Azhar who was retired hurt on Sunday came to bat again as he was fit to play.
Shakeel who was playing top-notch cricket on 76 runs ended up hitting in the air (Ollie Robinson over) and was taken by Ben Stokes at short cover. His innings of 76 off 159 included 12 4s.
Meanwhile, Pakistan gained 200 runs in 61.4 overs (375 balls) and were 217 for 5 at drinks, needing 126 runs to victory.
Pakistan reached 250 runs in 75 overs. Salman who was pinned lbw by Jack Leach in the 76th over went on for the review and was saved. Pakistan were 257 for 5 in 77.0 overs at tea.
Pakistan lost the sixth wicket when Salman (30 0ff 64 balls) tried to hit an inswinger.
A review was taken by England which showed he was pinned lbw by Robinson in the 81st over. Salman and Azhar provided a 61-runs partnership to the sixth wicket.
Azhar also didn't stick around much and was gone in the 83rd over again.
Azhar who tried to flick Robinson was taken at leg slip by Joe Root thus going for thus going for 40 runs.
Pakistan's wickets kept on coming as Zahid Mahmood (1) and Haris Rauf (0) were downed by James Anderson in the 88th over.
Though Naseem Shah and Mohammad Ali stopped the wicket for almost 9 overs but Leach was determined to win it for England as he pinned Naseem lbw, taking his team to a historic 74 runs victory against the hosts.
Pakistan skipper said he was disappointed to see his side losing when it was very much in the game right from the start.
"The way we build partnerships (was encouraging) and till lunch we were very confident. But (unfortunately) our back-to-back wickets fell, but you have to give credit to England like the way they fought," he said in a presser after the end of the match.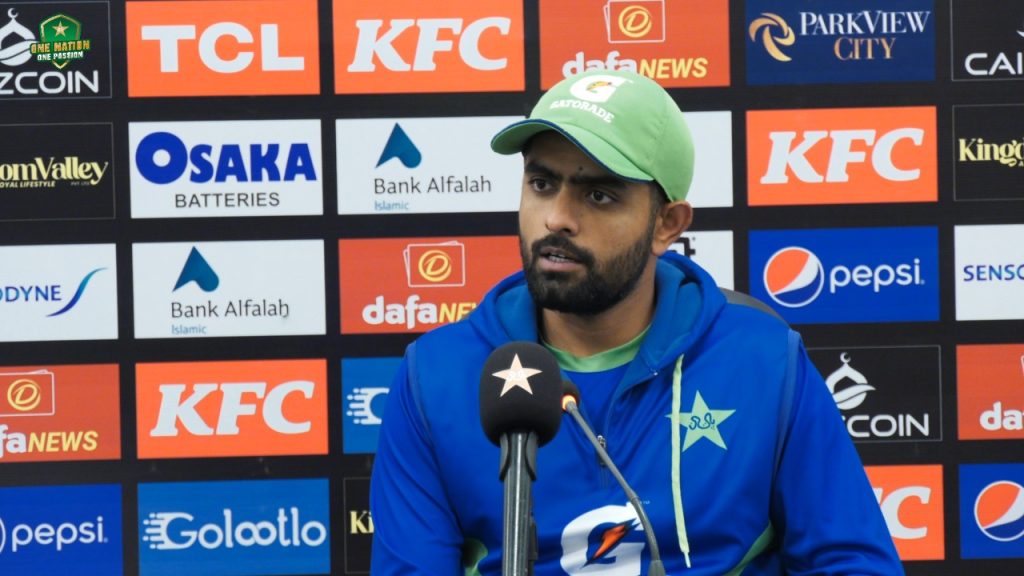 According to Babar, Pakistan fieled the best playing XI in the game.
"Every team has a different way of playing and one match can't change it.
Yes you have to play according to the situation and plan, but we tried to do the best," he said.
To a question, he said the problem with the Pakistan team was that they remain unable to finish the game.
"We commit mistakes when we are close to the match."
At Pindi stadium, he said they did not get the pitch they were looking for because of the weather or preparations therefore plans could not executed.
"When we lost Agha and Azhar it seemed that we were getting behind the match. Naseem and Ali dragged the game but we (batters) should have taken the responsibility."
Babar said absence of Shaheen Shah Afridi was felt but Naseem and Ali also bowled well as Haris was injured.
"We are looking closely at the injuries of our fast bowlers….will see how to plan for the future. But Haris's injury is severe and don't know whether he will be there but we will try to win the second Test and win the series," he said.
About the crowd, he said Rawalpindi crowd turned up in masses all five days of the game and supported both teams which was a very good response by them.
English captain Ben Stokes said Test cricket generally looked exciting when with a declaration both results were possible and one of those was not that of a draw.
"The way our batters went out there and played with freedom and the enjoyment allowed us to be where we were on day five" he said.
"When we went out to bowl, and picking up two early wickets was massive, and (afterward) a lot of things went our way," he added.