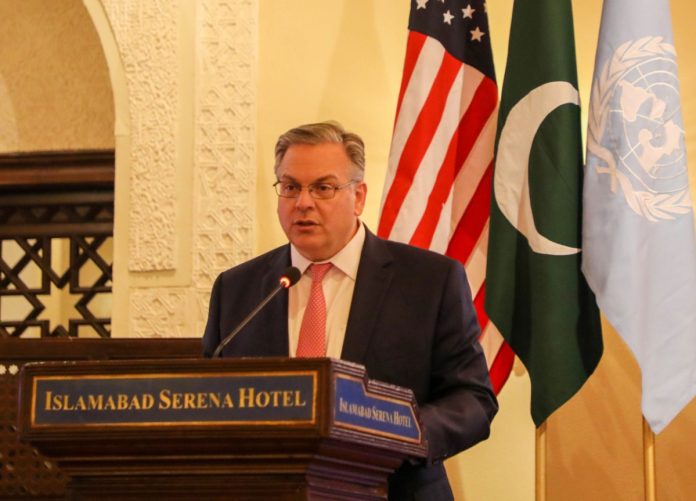 ISLAMABAD, Jan 26 (APP): U.S. Ambassador to Pakistan Donald Blome on Thursday said that over the past 75 years, the United States has invested more than a billion dollars to strengthen Pakistan's civilian law enforcement capacity and keep Pakistani citizens safe.
He made these remarks during the ceremony organized by the United Nations Office on Drugs & Crime (UNODC) Representative Jeremy Milsom and Balochistan Police Inspector General Abdul Khalique Sheikh to celebrate the successful completion of a $4,578,696 Improving Rule of Law Program in Balochistan, funded by the U.S. Embassy and executed by UNODC.
The five-year program commenced in February 2017 and concluded in December 2022.
In his remarks, Ambassador Blome said, "Today we recognize the completion of a six-year effort between the United States, Balochistan, and UNODC. In 2017 the United States was the sole funder for this project, providing $4.5 million for the Improving Rule of Law in Balochistan project.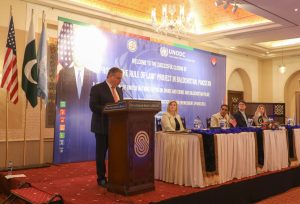 The United States played a significant role in the training of Pakistan's civilian law enforcement capacity and this has included training for more than 120,000 Pakistani police officers, incorporating international standards for crime response, investigations, and handling of evidence into their courses.
"We contributed to the construction of over 230 border posts along the Pakistan-Afghanistan border. In Balochistan, we have provided over $20 million to purchase bulletproof vests, helmets, and vehicles to enhance law enforcement operations and keep officers safe while fighting crime, he added."
Ambassador Blome also highlighted U.S. flood assistance, adding "To date, we have committed more than $200 million in flood-response, disaster resilience, and food security assistance. Our support includes urgently needed food, safe water, sanitation and hygiene improvements, financial help, and shelter assistance.
It also includes work with the Balochistan Police, including replacing police stations destroyed in the floods and providing a new wall and drainage system to better protect the Balochistan Police Training College in Quetta.
We are doing what friends and partners do in times of hardship – support each other."
In his opening remarks, Jeremy Milsom, Country Representative, UNODC Country Office in Pakistan highlighted UNODC's continued support towards improving the rule of law sector in Balochistan.
He thanked U.S. Embassy's International Narcotics and Law Enforcement (INL) section for its support and appreciated the Government of Balochistan's collaboration towards strengthening and reforming criminal justice institutions in the province.
The Program aimed to enhance the technical and operational capacity of the Balochistan Police through training sessions on crime scene investigation, forensic examination skills, and the provision of modern equipment. Improved cooperation between police and prosecution for better justice outcome remained a core component of the Program.
UNODC under INL funding equipped the Crime Branch of Balochistan Police with 10 Mobile Crime Scene Units, 2,250 First Responders and 250 Crime Scene Kits, as well as the renovation of Balochistan's Forensic Science Lab. Furthermore, four Forensic Collection Units to transport evidence were also established.
This has been demonstrated by Ms. Jouhaida Hanano, Advisor, Rule of Law and Anti-Corruption Program, UNODC during her presentation on program achievements.
UNODC also supported the INL Program in the area of policy reforms and provided technical assistance to Balochistan Police Training Branch in needs assessment and analysis for capacity building. Specialized modules were developed, and 5517 officials were trained on multiple policing functions.
Abdul Khalique Sheikh, Inspector General of Police Balochistan expressed his profound gratitude to the U.S. Embassy's International Narcotics and Law Enforcement (INL) "Rule of Law" Program in Balochistan.
He said, "These wide-reaching initiatives have made a lasting impact in the lives of common citizens.
This program was a perfect arrangement where INL and UNODC extended a helping hand in areas not taken care of by government finances and beneficiaries.
I would like to acknowledge and appreciate the successful completion of this five-year program in Balochistan.
This has set the stage and created an enabling environment where we have further built on it by adding community policing initiative."
He also conveyed his appreciation towards INL and UNODC for their invariable support and further stated that he was confident that this assistance and effort will go a long way in making Balochistan Police more responsive.