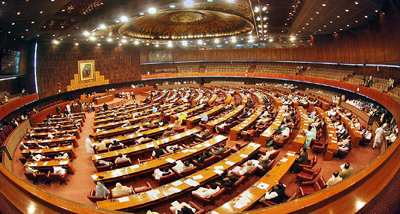 ISLAMABAD, Jan 31 (APP): The members of the National Assembly from various political parties on Tuesday urged the government to evolve a counter-terrorism policy in consultation with political leadership, in the wake of a deadly terrorist attack in Peshawar Police Line's mosque the other day, and others to combat the menace of terrorism and extremism from the country.
Participating in a discussion on the Peshawar tragedy in National Assembly, after suspending agenda items on a motion moved by Minister for Defence Khawaja Muhammad Asif, they collectively said a joint session should be called to discuss national security to deliberate on the surge of violent terrorism and extremism and devise a strategy to eliminate the menace.
They stressed implementing National Action Plan (NAP) in its true letter and spirit.
Maulana Abdul Akbar Chitrali of Jamat-e-Islami (JI) criticized the successive governments for not devising policies for achieving sustainable peace in the country. He said peace was imperative for strengthening the country's economy.
Muhammad Hashim Notaizai demanded sending Afghan nationals back to Afghanistan, adding the country was facing dangers from within.
Ghous Bukhsh Khan Mahar said the government should not be blamed for such gory incidents. He urged the speaker to dedicate another day to holding thorough discussion on the tragedy.
Minister for Poverty Alleviation and Social Safety and Chairperson Benazir Income Support Programme (BISP) Shazia Marri said Pakistan Peoples Party leadership had offered unmatched sacrifices for the country. The people of the country badly needed peace and tranquility, she added.
She criticized the erstwhile PTI government for "rehabilitating a large number of TTP miscreants in the country". She stressed eliminating the miscreants with iron hands.
She criticized Pakistan Tehreek-e-Insaf Chairman Imran Khan for leveling baseless allegations on former president Asif Ali Zardari, adding that "Imran was the facilitator of Tehreek Taliban Pakistan's miscreants".
Dr Muhammad Afzal Khan Dhandla stressed devising long-term consistent policies to combat terrorism which should be followed by successive governments. He stressed eliminating the menace of poverty in the country. The poor should be provided with basic amenities.