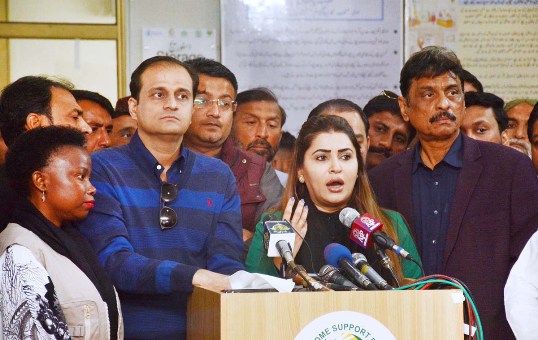 KARACHI, Jan 28 (APP): Federal Minister for Poverty Alleviation and Social Safety Shazia Marri, while condemning allegation of PTI chief Imran Khan against former president Asif Ali Zardari, said that "Imran Ahmed Niazi has gone insane as his allegation and statements are not even worth answering".
She stated this while talking to media persons after inaugurating 'Benazir Nashonuma Center', here, on Saturday.
The minister said that Zardari had never uttered a single word against his opponents, adding that "Imran Ahmed Niazi is a narcissist".
She blamed that "Imran Niazi is trying to spread anarchy in the country". The minister said that the institutions
had announced they would remain apolitical.
Shazia Marri said the federal government did not ignore any province. "We are contacting every provincial government," the minister said, adding that the Sindh government was cooperating with them.
"The Sindh government also cooperated when Prime Minister Shehbaz Sharif had announced Rs25,000 each under the Benazir Income Support Programme (BISP) for deserving families," she recalled.
She said that under the BISP programme 1.5 million beneficiaries would be targeted. The federal minister said that pregnant women, lactating females, and females, whose children were aged 6 to 23 months would be covered under this initiative.