ISLAMABAD, Sep 1 (APP):Special Assistant to the Prime Minister on Human Rights and Women Empowerment Mushaal Hussein Mullick on Friday paid glowing tributes to veteran Hurriyat leader Syed Ali Geelani, calling him a role model for the future generations.
Addressing three different seminars in connection with the second death anniversary of great Hurriyat leader, Mullick said the late Geelani dedicated his entire life and sacrificed everything for the sacred cause of Kashmir freedom struggle without budging an inch from his principled position till he breathed his last.
The SAPM stated that history testified that those who influenced human thoughts, their life was dedicated to some cause and they rendered sacrifices for freedom, always remained alive.
Therefore, she said, personalities like Hazrat Baba Bulleh Shah and Syed Ali Geelani did not die and they just disappeared physically but their thoughts remained in the human minds.
Mushaal said Syed Ali Geelani embraced martyrdom under Indian police custody on September 1, 2021 at his residence in Hyderpora, Srinagar. He was kept under continued illegal house arrest for over a decade by the Indian forces and it was now feared that a number of Hurriyat leaders, including Yasin Malik, were in queue to get the same fate like Geelani.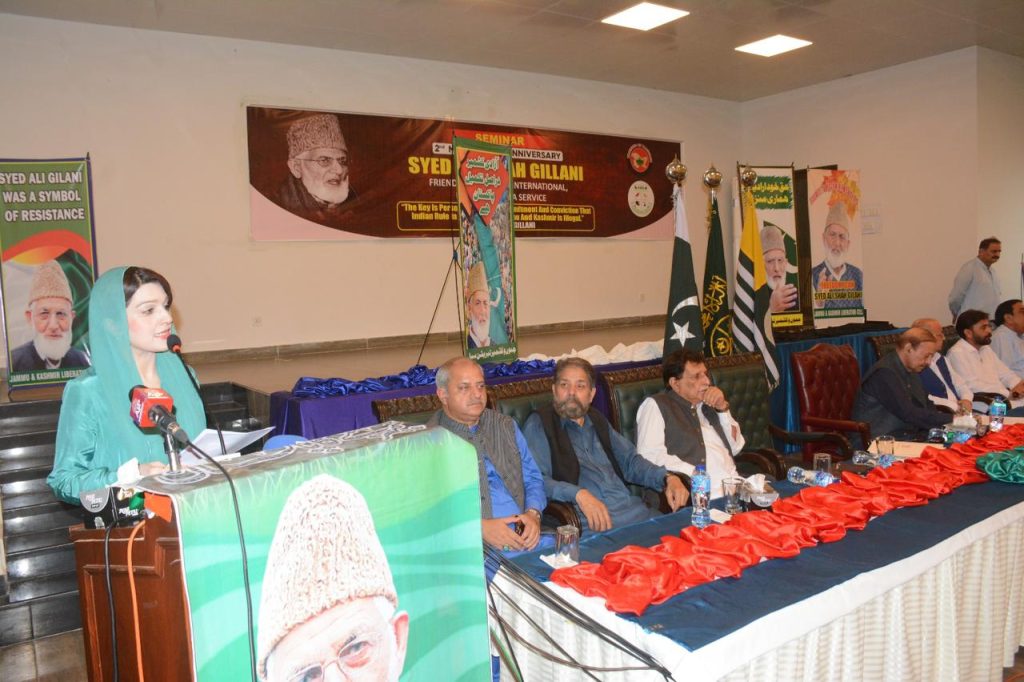 Therefore, she urged the United Nations bodies and the world powers to take cognizant of the inhuman acts by Indian occupation authorities and take urgent steps to ensure their safe release to avoid their custodial deaths.
She said that Geelani gave his life in the struggle for independence of Kashmir, and exposed the fascist and oppressed face of India to the world, who dedicated his life and even his death to telling everybody that freedom could not be compromised or traded off.
Ali Geelani did not die but just disappeared physically and his thoughts would continue to inspire the Kashmiri freedom fighters and serve as a beacon of hope for the Kashmiri youth, she added.
SAPM Mushaal said that the Indian government was afraid of Geelani's leadership abilities so much as manifested from the inhuman act after his physical death that the occupation forces had forcibly taken away his dead body for burial at the Hyderpora graveyard under heavy military siege at night in violation of the last will of the veteran leader.
Mushaal highlighted that he was subjected to physical and mental torture during his imprisonment but never bowed down to the occupation forces till his last breath. He made a "significant contribution to the Kashmiris' struggle for their right to self-determination and suffered lifelong persecution at the hands of India.
She said that Geelani had foretold what the future beholds for Kashmir, as he had prophesied that when demography would be changed in favour of Hindus in Kashmir like in Jammu then India may concede to a plebiscite in the territory, fearing that the Modi regime may accept the plebiscite once its settler plan was accomplished.
"Geelani was respected for the refinement of his personality, dedication and unwavering commitment to his mission that is why he won accolades from the people within and outside Kashmir, even by his critics and political adversaries," she maintained.
Mushaal said that Pakistan conferred Nishan-i-Pakistan on Ali Geelani in recognition of his decades-old struggle for the Kashmiris' right to self-determination.
She said that the Indian fascist occupation forces had been using the brutal, tyrannical and inhuman tactics to silence the dissenting powerful voices for the last seven decades but all their nefarious and notorious schemes proved exercise in futility rather their state terrorism further ignited the freedom struggle.
She demanded that it was high time the notorious Indian government should release all the political prisoners instantly and let the Kashmiri people decide their fate as per their free will because it was proved that the fascist forces could not suppress the legitimate freedom struggle come what may.