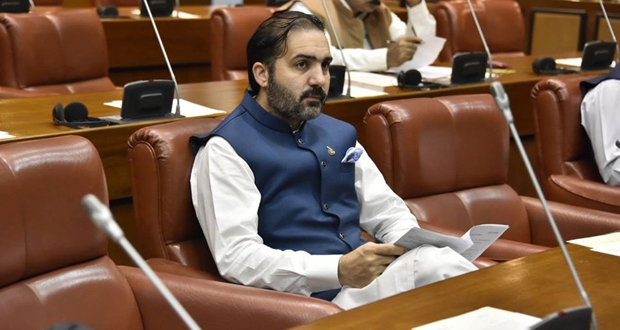 ISLAMABAD, Jan 17 (APP): Senate Deputy Chairman Mirza Muhammad Afridi on Tuesday stressed the need for introducing global warming and climate change into school curricula to create awareness among the youth about the problems faced on the environmental front.
He was presiding over a capacity-building seminar for members of the Senate on climate change. The seminar jointly organized by the Parliamentary Development Unit (PDU) and the World Wide Fund for Nature (WWF) here at the Parliament House, aimed to enlighten the parliamentarians about the impacts of climate change and remedies as well as planning to control its density and safeguard people from its negative effects.
Mirza Afridi said it was crucial to ensure that every citizen was aware of the immense climatic threat and able to play a role in averting it.
Each and every individual had a crucial role to play and they must be prepared to overcome issues and challenges posed by climate change, he added. The youth, being the agents of change, entrepreneurs, and innovators, were valuable contributors to climate action, he said.
Earlier, Chairperson of the Senate's Standing Committee on Climate Change Senator Seemee Ezdi stressed the need for accountability of the Global North, since the underdeveloped world currently faced the consequences of its environmental excesses that formulated 92 percent of total world Green House emissions.
She asserted that it was crucial that those countries kept the commitments made on various global forums. Pakistan, she said, had faced the worst consequences of global warming and was in need of global justice.
WWF Director of Policy and Governance Dr Imran Khalid stressed the need for the implementation of policies so that Pakistan could play a role in reducing the immense environmental threat it faced.
He said Pakistan called for global justice and the developed world kept its commitments yet, it was essential that "we should be self-reliant and make decisions to control the damage at our own end".
WWF Director General Dr Hammad Naqi Khan viewed that Pakistan must make a crucial shift towards alternate energy resources in order to protect the environment on an urgent basis.
He stressed the need for Pakistan to negotiate the latest technology in that context from China which was the world leader in renewable energy resources.
He said it was crucial that "we take the reins of survival in our hands, and ensure that we will make and adhere to policies on hospital waste management, forest degradation, and renewable energy".
He said stringent measures must be taken to ensure daylight conservation in order to restore the ailing environment to health.
He said China and the United States contributed 50 percent of the total Green House emissions of the world. Pakistan in comparison contributed just one percent, yet it was important that the same was rectified with sound policies to "ensure our survival", he added.
The seminar, which commenced with a welcome message from Secretary Senate Mohammad Qasim Samad Khan, was attended by senators Asad Ali Junejo, Syed Ali Zafar, Muhammad Akram, Tahir Bizenjo, Professor Dr Meher Taj Roghani, Fauzia Arshad, Faisal Saleem Rehman, Danesh Kumar, Rubina Khalid, Naseema Ehsan, Gurdeep Singh, Faisal Javed, Zeeshan Khanzada, Keshu Bai, Abida Muhammad Azeem, Sardar Muhammad Shafeeq Tarin, Seemi Ezdi, Khalida Sikander Mandhero, Engr Rukhsana Zuberi and Syed Sabir Shah.
APP/sra