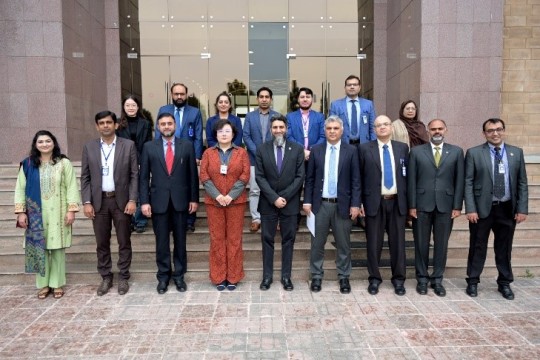 ISLAMABAD, Mar 6 (APP): The China-Pakistan Agricultural Corridor project would pave the way for a new era of collaboration between the two all-weather strategic partners, said China Study Center Director Xiang Yang on Monday.
She, in an exclusive talk with APP, said the following project was a significant initiative and would serve as a model for other countries in the region to emulate and reinforce the belief that cooperation and partnership could lead to significant achievements and benefits for all.
Xiang Yang informed that the National University of Sciences and Technology (NUST) had signed three documents of understanding with various Chinese institutions to boost agriculture productivity in Pakistan.
These agreements were inked with Weifang Engineering Vocational College, Qingzhou Municipal People's Government and Weifang National Agricultural Open Development Comprehensive Pilot Zone, she added.
She said this collaboration would enable to share resources, expertise, and knowledge between China and Pakistan, and work together towards common goals of improving and promoting sustainable methodologies in agriculture sector.
Xiang Yang said the agriculture, in the South Asian countries, was struggling with low productivity, supply shortfalls, low returns to farmers, lack of advanced technology and trained professionals and thus threatening food security in the region.
Addressing these issues would have a significant impact on people's lives, particularly in Pakistan, as it was an agro-economic country with immense potential for crop production and research in agricultural sciences, she added.
She said NUST was actively pursuing research on plant biotechnology, environmental sciences, agri-technology and agribusiness with emphasis on precision agriculture, multi-spectral sensing of crop fields, 3D printing and scanning applications, early detection of pathogens, and effective plant disease management.
However, contributing to sustainable agriculture resource management systems was still a major challenge at large, she said expressing the hope that these agreements would play a vital part in filling this gap.
According to the agreements, the institutions would carry out research on the construction of whole agricultural industry chain system between China and Pakistan, research on industrial development strategy, industrial demand analysis and development prospect forecasting.
They would help in deep processing and industrialization development of local agricultural products besides research and development and integrated innovation of key technologies for efficient standardized cultivation of crops in Pakistan.
They would devise a three-year training programme for international students, promote bilateral exchanges between the two sides, and assist in providing employment opportunities.
They would build an agricultural laboratory and test field in Pakistan to experiment with and promote advanced Chinese agricultural technology besides precise fertilization of crops and harvest loss reduction technology exchange and cooperation.
They would design joint application for projects in the field of agricultural sciences to work together for the social and economic development of the two countries.
The agreements signing ceremony was attended by NUST Pro-Rector Academics Dr Osman Hassan, Acting Director International Office, Dr Umer Asghar and his team, Principal Atta-ur-Rahman School of Applied Biosciences with his faculty members and China Study Centre Director Xiang Yang and her team Wang Yong, Deputy Director of Weifang National Agricultural Comprehensive District Promotion Office, Li Xiuming, Deputy Director Weifang National Comprehensive Pilot Agriculture Zone, Chen Wei, Deputy Mayor of Qingzhou Municipal People's Government, and Wang Jinming, Vice President of Weifang Engineering Vocational College.