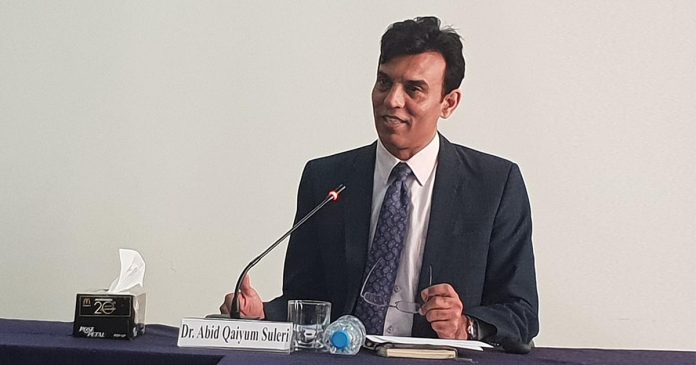 ISLAMABAD, Jan 21 (APP): Executive Director Sustainable Development Policy Institute (SDPI) Dr Abid Qaiyum Suleri said that the economic crisis had global crisis of exacerbated inflation that had also affected Pakistan, as inflation in the country had currently spiked up to 24.5 percent, where accepting the IMF conditions was vital for cash flow in current economic crisis.
Speaking at a seminar on "Pakistan's economy and debt challenges" organized by SDPI here Saturday, he said that political instability has globally and nationally worsened the economic crisis developing into a vicious cycle.
He said that during past few years, Pakistan had managed to sail smoothly amidst the intensifying geo-political tensions, however, the future developments seem concerning.
Suleri said that we must remain politically right with the West, since loans from even friendly countries had become conditional to being able to secure the next loan installment from International Monitory Fund (IMF).
"Political forces in Pakistan realize that IMF is a must despite its tough conditions; for the political capital taking non-popular decisions is inevitable", he added.
He stressed to support the current government in availing the current IMF program and said that demonizing the IMF and international finance partners will not yield good result. Pakistan is on the brink of crisis like Sri Lanka which needs to be averted, he said adding that otherwise, the county would import essential goods like medicines and fuel for transport.
The government needs to strengthen social protection to cushion the lower income segments during the economic crisis, he expressed.
Referring to the recent international financing pledges, he said we cannot rely on the pledges to shore up our foreign exchange reserves.
Joint Executive Director SDPI Dr Vaqar Ahmed stressed on achieving political stability and said that the lenders wanted assurance for repayment of long-term loans often undermined by political strife in the country.
Assistant Professor Habib University Dr Aqdas Afzal predicted that by agreeing to the IMF's conditions, the country can avert the immediate crisis, but the storm is yet to be over.
He said that with the net foreign exchange reserves held by SBP at $4.6 Billion, the policy makers need to maneuver tactfully as pressure will mount further in coming months.
He urged the policy makers to extend social protection, increase stipends of BISP for the most vulnerable communities for sustainable reforms.