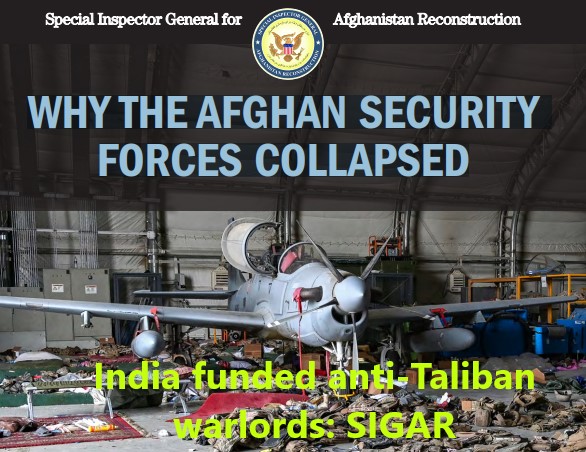 ISLAMABAD, Mar 14 (APP): A report by the Special Inspector General for Afghanistan Reconstruction (SIGAR) has exposed India for playing the role of a spoiler in Afghanistan to fulfill its noxious designs.
In its report "Why the Afghan Security Forces Collapsed" SIGAR, Washington's leading oversight authority for Afghanistan reconstruction has indicted India for financially supporting anti-Taliban warlords.
The SIGAR is a credible forum that provides independent and objective investigations on the US operation in Afghanistan.
The report, published in February this year, says that India funded anti-Taliban warlords who are considered its associates.
It quoted a former Afghan general named Hibatullah Alizai who said that Nothern Afghanistan leaders Atta Mohammad Noor and Abdul Rasheed Dostum went to India and got money to create resistance in the North that has traditionally resisted Taliban.
Hibatullah claimed that he kept requesting Afghan government for funding for operation and supplies but failed. Contrary to that Dostum and Noor got money from Indians so easily.
However, India has not responded to the report since its release, according to SIGAR.
India maintains a history of supporting Northern Alliance and maintaining an anti-Taliban bearing as the country did the same during the Taliban's previous regime from 1996 until October 2001.
"The latest report is absolute proof of India's anti-Taliban policy where it has played the role of a spoiler against the Taliban regime," said a defence analyst.
He said in addition to its spoiler role in Afghanistan, India maintains a history of funding proxies in the region to fulfill its own noxious designs. India always used Afghanistan as a staging ground and a second front against Pakistan.
The analyst recalled that with Taliban coming into power, India got deeply worried about its strategic losses and now trying to mend fences with Taliban, however, Taliban being well conversant with India's spoiler role are quite cautious while dealing with India.
He said India knew that peace in Afghanistan would make it a corridor of connectivity benefitting Afghanistan and the region which was not a favorable situation for India.
He said for the last two decades, India had fooled the international community, promoted fake narratives, and used Afghan soil to foment terrorism against the region in general and Pakistan in particular.
"Spoilers cannot be peacemakers. India is no more relevant vis-à-vis Afghanistan. India is in conflict with every neighbour and it is just illogical and senseless to consider India as a peacemaker," he remarked.