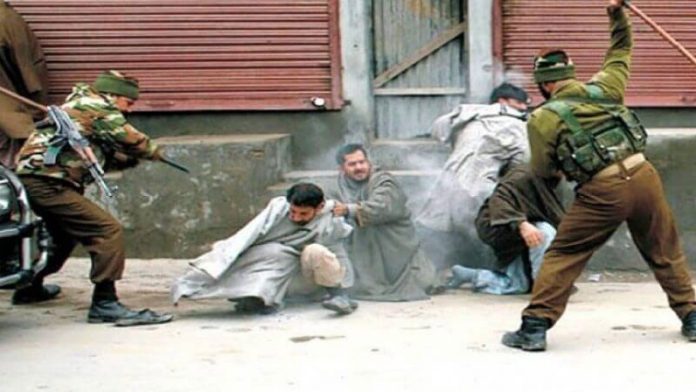 GENEVA, Mar 03 (APP): Pakistan has called on the States that place premium on respect for human rights to speak out for the protection of the rights of the people in Indian-occupied Kashmir, saying their silence has emboldened India to take steps to disenfranchise Kashmiris and to transform the Muslim majority into a minority in the disputed territory.
"The discomforting silence of the flag-bearers for human rights has encouraged Indian proclivity to kill, maim, rape, and torture the Kashmiri youth and women," Minister of State for Foreign Affairs, Hina Rabbani Khar, told Geneva-based the Human Rights Council via video-link from Islamabad on Wednesday,
Speaking in the high-level segment of the 47-member Council's 52nd session, she urged the UN High Commissioner for Human Rights to provide an updated report following its two previous reports that testified to the litany of India's systematic suppression of Kashmiri rights.
In her remarks, the minister of state also reiterated Pakistan's strong condemnation of the recent burning of the Holy Quran in three countries by individuals "masquerading as paragons" of free speech, saying desecrating holy books, religious symbols, and revered personalities is neither a right nor a freedom.
'We, therefore, call on all governments to prevent such senseless acts, evolve legal deterrence against incitement to violence, and hold violators to account under due process of law," Ms. Khar said, pointing out that Islamophobia continues to grow in large part due to securitization of policies and stereotyping by sections of media.
"It is time to confront the underlying drivers and actors fanning deliberate hate and incitement to violence," she addd.
On its part, the minister of state said Pakistan remains fully committed to promotion and protection of human rights at home and abroad.
Dealing in detail with the grave situation in Indian-occupied Kashmir, Ms. Khar said, India's unilateral and unlawful actions since August 2019 were an affront to the sanctity of global human rights' edifice, and a brazen defiance of international law and UN Security Council resolutions.
It was ironic, she said, that on the 75th anniversary of the Universal Declaration of Human Rights (UDHR), Kashmiris in Indian-occupied Kashmir mark the 75th anniversary of the denial of their fundamental human rights, especially their birthright to self-determination.
"Long inured to impunity for its actions, India has been emboldened to deploy draconian laws to disenfranchise the Kashmiri people and to transform the Kashmiri majority into a minority in the internationally recognized disputed territory," Ms. Khar said.
"Political expediency has condoned the Hindutva regime to dehumanize the Kashmiri people by falsely equating their legitimate pursuit of rights with the canard of 'terrorism'." she said, highlighting India's use of state terrorism to gag media, silence human rights defenders, and deny independent reporting and assessment of the situation.
Now," the minister of state added, "the Indian occupying authorities have stepped up collective punishment of Kashmiris by demolishing residential homes and terminating land leases to deprive Kashmiris of their livelihoods.
"I, therefore, call on States that place premium on universal respect for human rights to demonstrate consistency and speak out for the protection of the rights of the Kashmiris in the Indian-occupied Kashmir".
As the world marks UNHR's 75th anniversary, Ms. Khar drew attention to the contribution of Shaista Ikramullah, a former Pakistani parliamentarian, who, as one of its drafters, had championed inclusion of Article 16 on equal rights in marriage in that landmark document.
While presenting Pakistan's Universal Periodic Review (UPR) a few weeks ago, the minister of state said she had told the Council that Pakistan had strengthened its domestic human rights architecture by enacting progressive laws, upgrading institutional support, improving implementation and reinforcing parliamentary and judicial oversight.
"But we have a long journey ahead," she said, adding, "The pursuit, realization and sustained enjoyment of human rights is a dynamic continuum – not a finite, one-off event."
An inter-Ministerial process has been initiated in response to recommendations made during the deliberations, she said. "Our focus remains on safeguarding and promoting the rights of minorities, women, children, transgender persons, persons with disabilities, and those adversely affected by the devastating floods last year."