ISLAMABAD, Sep 7 (APP):Pakistan High Commission, London held a ceremony on 06 September 2023, in connection with the Defence and Martyrs Day to commemorate the 58th anniversary of Pakistan Defence Day.
The event was attended by distinguished guests, including Dr. Victoria Tuke from the UK's Ministry of Defence, Lords, MPs, Defence Attaches from friendly countries, and members of the community.
In his address, High Commissioner Dr. Mohammad Faisal paid tribute to the martyrs of the nation and highlighted the significance of the day, which is dedicated to honouring the courageous individuals who made the ultimate sacrifice in defence of Pakistan.
He reflected on the historic events of September 6, 1965, when Pakistan's Armed Forces, supported by resolute citizens, successfully repelled an invasion by a significantly larger adversary.
Dr. Faisal underscored the crucial role played by Pakistan's armed forces in shaping the nation's security landscape. He highlighted their ongoing efforts to combat terrorism through legislative and financial network disruption, exemplified by the National Action Plan. The High Commissioner stressed the importance of global cooperation in addressing the root causes of terrorism. In this regard, he appreciated the enduring partnership between the UK and Pakistan in the realm of defence and security.
Speaking on the occasion, Dr. Victoria Tuke highlighted the significance of ongoing UK-Pakistan cooperation in defence and security matters.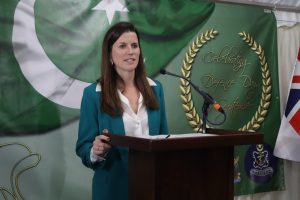 She underscored the shared commitment between the two nations to bolster regional and global security, emphasizing the importance of collaborative efforts in tackling common challenges and promoting peace.
Defence & Naval Adviser, Commodore Muhammad Zeeshan Nabi, and Army and Air Attache Colonel Taimur Rahat also spoke on the occasion, reiterating the enduring importance of Pakistan Defence Day.