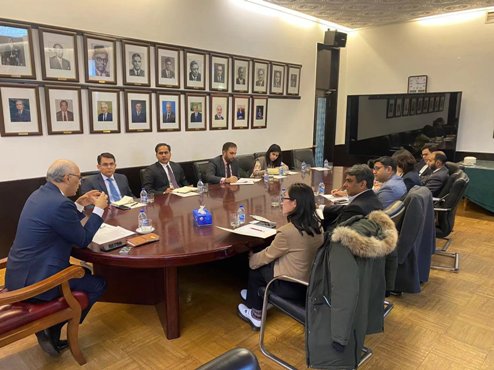 BEIJING, Dec 8 (APP):Pakistan Ambassador to China, Moin ul Haq here on Thursday met with representatives of Pakistani banks in Beijing and briefed them on the outcome of Prime Minister Shehbaz Sharif's last month visit to China.
During the meeting, he exchanged views and solicited their suggestions to deepen trade and investment relations between Pakistan and China and expand exports to China.
Chief Representative, National Bank of Pakistan (NBP), Shaikh Muhammad Shariq, Chief Representative, Bank Al-Habib, Danish Shoeb, Chief Representative, Askari Bank, Hasib ur Rehman, Chief Representative, ABL, Rameez Feroz, and representatives of UBL and HBL were present on the occasion.