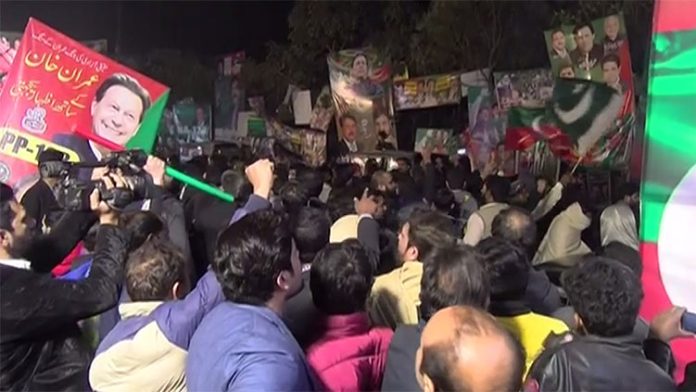 PESHAWAR, Mar 19 (APP): Political experts here Sunday claimed that former prime minister Imran Khan has allegedly orchestrated the Zaman Park"s PTI workers-Punjab police standoff plot in a bid to get people's sympathies ahead of the Punjab Assembly election.
'Following announcement of the election schedule for Punjab Assembly election by Election Commission, Imran Khan had allegedly chartered the Zaman Park"s standoff plot by using PTI workers against Punjab police in a bid to raise his dwindling popularity ahead of the polls," said, Ikhtiar Wali Khan, PMLN spokesman while talking to APP on Sunday.
He said Imran has used PTI enraged workers including women and children as human shields at Zaman Park to avoid his possible arrest and created obstruction in the official work of Punjab police on several occasions.
As a result of the provoked aggression of the PTI, he said that scores of policemen and law enforcers including officers were critically injured. The PTI workers had challenged institutions including police by attacking the law enforcers in Zaman Park on a number of occasions, resultantly many cops were hospitalized.
He said Punjab police has shown maximum restraint and professionalism that averted untoward incidents during Zaman Park's skirmishes despite repeated attacks and hooliganism by the PTI workers.
Inspite of thrashing of police, he said that not a single shot has been fired by the law enforcers and previous lives saved despite PTI workers' violence that earned bad name for the country.
PTI leadership has tried hard to defame Punjab government and Lahore police by provoking the law enforcers but completely failed in its negative designs, he said.
He said the valiant cops have effectively dealt the difficult situation erupted after the PTI workers have pelted police with stones and slingshot, setting police vehicles on fire and ransacking public properties during clashes outside Imran residence at Lahore.
He claimed that the recent audio leak has proved that PTI supporters were ordered by the party leadership to procure petrol to use it as a weapon against the police and law enforcers.
In democratic societies, he said political leaders were not afraid of jails and faced court trials with courage.
He deplored the appearance of Imran along with thousands of his supporters in the judicial complex Islamabad and clashes of PTI workers with police on Saturday.
"Is Imran Khan considered himself above the law and constitution. If a three times elected Prime Minister Nawaz Sharif can appear in courts for over 200 times along with his daughter Maryam Nawaz without political workers and faced imprisonment then why not Imran Khan can appear in courts without workers."
ANP leader Wajid Ali Khan said Imran Khan instead of cooperating with police has allegedly motivated his enraged supporters to create obstruction in police official duties at Zaman Park.
He said that Police had no weapons and ammunition during Zaman Park clashes and were hit with petrol bombs, sticks and stones besides slingshots which was highly deplorable on the part of PTI workers. As a result, about 65 policemen and DIG Operations Lahore were injured and admitted to hospital.
He highly praised Lahore police for showing great professionalism and maximum restraint despite PTI workers' provoking attitude.
Wajid Khan said Imran had used PTI workers, children and women as human shields to avoid his possible arrest after he was charged in various cases and allegedly tried to spread anarchy in the historic city of Lahore.
As a result of the irrational approach of the PTI leadership, he said that surrounding areas of Zaman Park were converted into dogfight that resulted in disruption of traffic causing great difficulties for hundreds of thousands of people and visitors in Lahore.
Strongly condemning Zalmay Khalilzad's unsolicited advice on the current political situation of Pakistan, PMLN Nowshera President Sahibzada Hamaza said that Zalmay Khalidzad had no right to speak in the internal political affairs of Pakistan.
"Pakistan is an independent sovereign country and no one has the right to pass such unsolicited advice or comment on our internal political affairs," he said.
He said democracy can't grow in Pakistan due to repeated unconstitutional intervention, rigging allegations in elections and chaotic economic situations.
Wrangling among political forces would serve no purpose rather political unity was required for elections.
Hamzan Khan said it was high time for all politicians to think above party politics and sit together for the country's larger interest to take the ship of democracy to safe shores.
He expressed the hope that ECP would consider all the economic and political issues before announcing date for general election in Khyber Pakhtunkhwa