ISLAMABAD, Jul 13 (APP):The Universal Service Fund (USF) has awarded a contract worth approximately PKR 6.78 billion to Ufone for providing High-Speed Mobile Broadband services in the Sibbi district of Balochistan province and Motorway M-8.
Federal Minister for Information Technology and Telecommunication, Syed Amin Ul Haque and Federal Minister for Science and Technology, Agha Hassan Baloch witnessed the contract signing ceremony and launch of the Research Impact Assessment Study here on Thursday.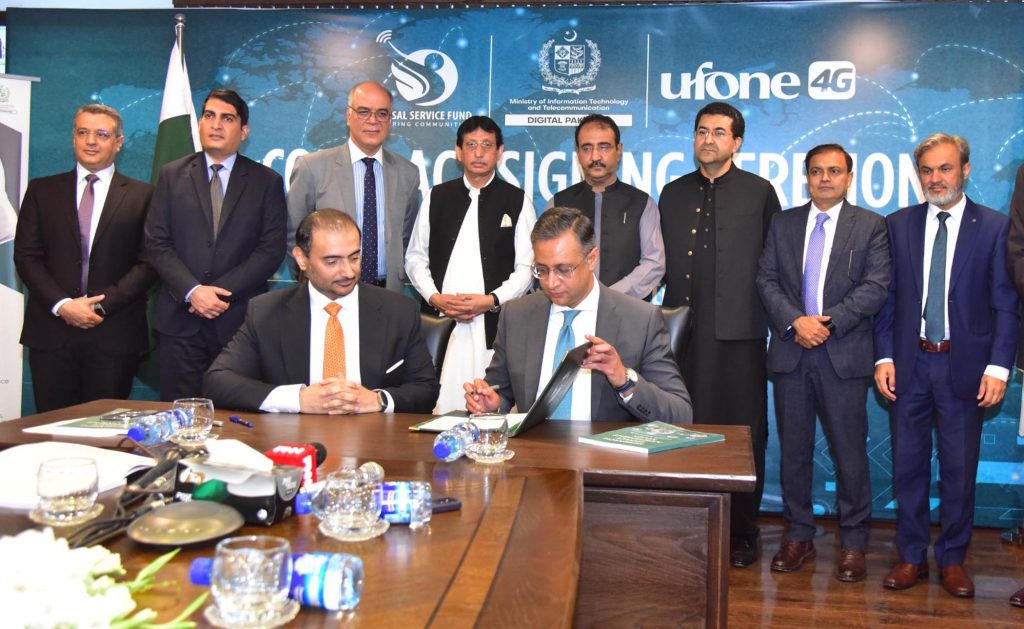 Haaris Mahmood Chaudhary, CEO of USF, signed the contract with Hatem Bamatraf, President and Group CEO, PTCL & Ufone 4G.
While addressing the ceremony, the minister said, "We are gathered here today to commemorate the signing ceremony of two new projects that target the provision of uninterrupted voice and 4G broadband data services in Balochistan. One of these projects is worth Rs.. 1.96 billion that aimed to empower around 34,000 individuals residing in 47 Mauzas of the Sibbi district.
He said additionally, another project worth Rs. 4.82 billion has been initiated to ensure voice and 4G coverage on 478 km of previously unserved road segments along the M-8 motorway. One of the salient features of this project is that national roaming will be enabled for commuters for uninterrupted services. These road segments pass through various districts including Gwadar, Kech, Awaran, Khuzdar, and Jhal Magsi in Balochistan Province, as well as Kambar Shahdad Kot and Larkana in Sindh Province.
Amin Ul Haque thanked Federal Minister, Agha Hassan Baloch for his time and apprised him of the developments of the Ministry of IT and Telecommunication in Balochistan.
He said, Ministry of IT and Telecommunication through USF has been at the forefront of digital transformation in Pakistan, with a dedicated focus on extending meaningful access to connectivity for the people of Balochistan. These efforts included implementing projects to provide 4G Broadband services to unserved populations, deployment of optic fiber cable as well as providing seamless coverage to National Highways and Motorways in the province through national roaming.
He said during the last 5 years, USF has launched 21 new projects worth Rs. 27.12 billion under its high-speed broadband program that targets the provision of 4G data services across the province. Under these projects, 936 BTS sites will be deployed to serve approx. 2.9 million people residing in 2,760 mauzas, and 2,205 km of unserved road segments on Motorway M-8 (Rato Dero to Gwadar), Coastal Highway, National Highway 25 & 65 and 50 & 70 will be provided with connectivity, he added.
Amin Ul Haque said Out of these, 527 BTS sites (approx. 56%) have already been deployed serving a population of approx. 2 million residing in 1,726 mauzas, and 1,727 km of unserved road segments. It is also worth mentioning that among the total 3,096 BTS sites installed in Balochistan, approximately 36.5% (1,131 sites) have been deployed through USF projects. Of these USF sites, around 87.3% (988 sites) are currently utilized for offering voice and high-speed broadband (4G) services across the province.
The Ministry of IT and Telecommunication will continue to provide its unwavering commitment to improving the lives of the local communities of Balochistan by providing them improved access to employment opportunities, education, and healthcare facilities.
While addressing the ceremony, Federal Minister, Agha Hassan Baloch expressed his gratitude towards Federal Minister, Syed Amin Ul Haque, for his initiation of development projects in Balochistan.
He emphasized that the Ministry of Science and Technology is committed to providing full assistance and support for the advancement of the IT industry.
He also commended the dedicated teams of USF and Ufone for their outstanding efforts, acknowledging their potential to bring about transformative change in the lives and livelihoods of individuals. By connecting people to the digital world and creating avenues for growth and development, these initiatives hold the promise of unlocking new opportunities for a brighter future.
Sharing his thoughts at the ceremony, CEO of USF, Haaris Mahmood Chaudhary said: "I am delighted to witness the contract signing ceremony of Sibbi and M-8 projects for Balochistan with Ufone and thrilled to announce the launch of the Research Impact Assessment Study.
This event marks another milestone in our journey towards enhancing connectivity in rural areas. While we have been making remarkable strides in improving connectivity, it was essential to quantify the level of empowerment within each family and assess the consumption of e-services for enhancing their lives. This report holds immense value, not only domestically but also internationally, enabling our stakeholders to make informed decisions regarding interventions and prioritize the needs of our communities effectively. The positive response we have received thus far reinforces our commitment to continue our efforts in bringing about positive change and empowering these communities."
Sharing his views on the occasion, President and Group CEO, of PTCL & Ufone 4G, Hatem Bamatraf said, "As a crucial player in the telecommunications industry, Ufone 4G plays a pivotal role in shaping connectivity nationwide. We firmly believe that connectivity is the cornerstone of socio-economic development, enabling individuals to access vital services, education, healthcare, and employment opportunities.
He said by actively contributing to the nation's progress, we strive to make a lasting impact on the lives of millions of Pakistanis. Through this strategic partnership, Ufone 4G and USF are dedicated to expanding the network connectivity footprint in the provinces of Sindh and Balochistan. Ufone 4G understands that these regions have unique needs and require focused efforts to bring them into the digital era. By combining our resources and knowledge with USF, Ufone 4G strives to create an inclusive, digitally empowered Pakistan, where no citizen is left behind."
At the ceremony, CEO of Agahi, Puruesh Chaudhary said: "It is an honour to witness the positive impact of USF efforts through the launch of Research Impact Assessment study, which sheds light on the remarkable influence on USF initiatives and the impact it has had on the lives of rural communities across Pakistan. This study provides valuable insights into the transformative power of bridging the digital divide. By connecting these communities, we not only did USF bring them closer to the digital world but also foster a sense of community and overall wellbeing."