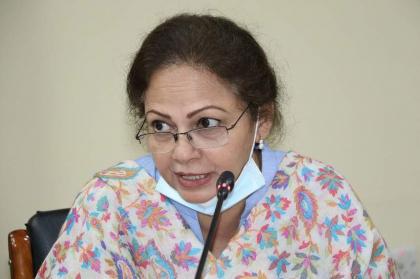 ISLAMABAD, Jan 19 (APP):State Minister for Finance and Revenue, Ayesha Ghaus Pasha here on Thursday highlighted that the government wants to continue programme with the International Monetary Fund (IMF) in such a way that the common man should not bear the burden of tough decisions to be made as per the Fund's condition.
Speaking to the media here after attending the Senate Standing Committee on Finance, Mrs. Pasha said that the government's economic team is having meetings with the Prime Minister to focus on its program with the IMF.
She said the Prime Minister was not in favor of taking tax measures across the board that could put an extra burden on the poor and common people.
To a question, she did not give any date when to start talks with the IMF team but she said that the government was firm to go with the program after having a detailed workout.
She said the government would try to convince the IMF about the worst situation in Pakistan after the disastrous floods last year. "The people are already suffering due to the disastrous flooding and they are not in a position to afford any further measures".
Earlier, briefing the Senate Committee on Finance she informed that Pakistan is going through an extraordinary situation.
A representative of the Pharmaceutical Manufacturing Association briefed the committee that the pharmaceutical industry has a potential of $6 billion.
He said that this industry imports 93% of raw materials and the remaining 7 percent is also ordered from India, however, the LCs are 100% closed.
He said that we have made advance payments but still the LCs are not open adding that all the banks are saying that they don't have dollars.
Replying to a pharma representative, the State Minister said that you should not say such things on such a platform, adding that Pakistan is going through an extraordinary situation.
Senate Standing Committee on Finance and Revenue met under the chairmanship of Senator Saleem Mandviwala.
Mrs. Pasha requested to understand that normal economic conditions cannot be provided yet and that we have inherited the current account deficit.
She said that we have given instructions to the banks to open necessary Letters of Credit (LC's).
If LCs are not open, it does not mean that the country is going bankrupt, she added.
LCs related to essential food items, energy, pharmaceuticals exports, and agricultural products will be opened, she added.
The State Minister said that we are trying our best to increase foreign exchange reserves but it takes time.
The Committee directed the State Bank to immediately open LCs in the pharmaceutical industry.
The committee also consider the matter of Exemption of FED/Sales Tax to Industrial Traders of Ex-FATA and instructed the special secretary of finance to arrange a meeting with the state minister of the chamber of representatives.