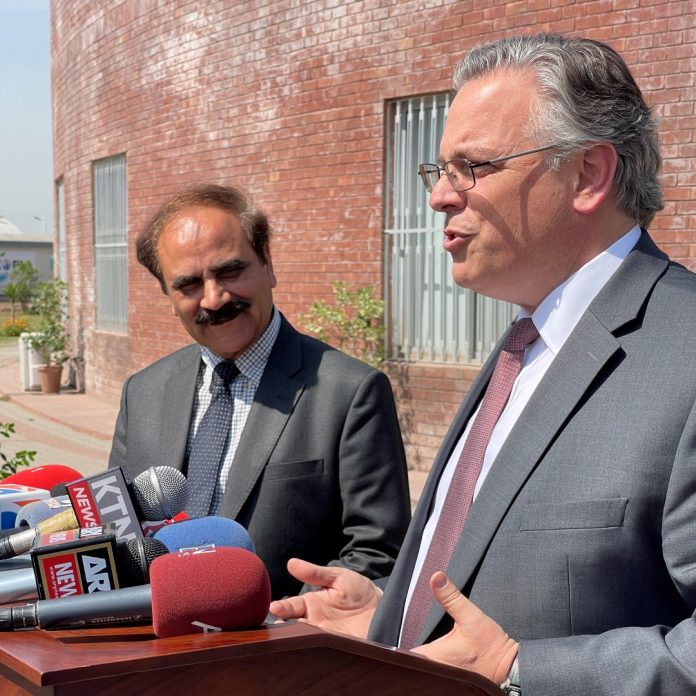 ISLAMABAD, Mar 14 (APP): Pakistan Agriculture Research Council (PARC) in collaboration with United States on Tuesday launched $4.5 million "Fertilizer Right Project", aiming at to enhance fertilizer use efficiency through innovative practices as well as to address climate, environmental and economic challenges.
As part of the US-Pakistan "Green Alliance" framework, the project prioritizes cooperation to overcome agricultural challenges caused by climate change, with a shared objective of reducing carbon emissions that contribute to climate change.
This innovative four years project also aims to help local farmers to enhance fertilizer use efficiency through innovative practices, said a press release issued by PARC.
Today, #AmbBlome announced the $4.5M "Fertilizer Right" project to help Pakistani farmers enhance fertilizer use efficiency as a part of the U.S.-Pakistan #GreenAlliance framework.

The 🇺🇸 looks forward to partnering w/ 🇵🇰 to make this project successful! https://t.co/TshLSMmP98 pic.twitter.com/O4p8hRr5qj

— U.S. Embassy Islamabad (@usembislamabad) March 14, 2023
The launching ceremony was held at National Agriculture Research Center, which was attended by the Ambassador of United States to Pakistan, Donald Blome and the Chairman of the Pakistan Agricultural Research Council, Dr Ghulam Muhammad Ali.
Speaking on the occasion Chairman PARC said that with this vital initiative, the United States and Pakistan are committed to build a sustainable future, supporting farmers and communities to overcome the complex environmental challenges of the future.
He lauded the support extended by the United States to the agricultural sector of Pakistan for decades and also highlighted various collaborative initiatives between USDA and PARC.
"Pakistani scientists are being trained under United States capacity building programs and these scientists are continuously contributing to the agricultural development in the country", he added.
Dr Ali highlighted that irrational use of chemical fertilizers to increase agricultural productivity and meet the food demands of growing population and said that it was leading to environmental degradation and health hazards.
He said that efficient use of fertilizers was crucial for sustainable agriculture and food security in the country.
The Fertilizer Right" initiative would develop the capacity of Pakistani farmers' in utilizing fertilizers effectively, which would lead to increased crop yields without negatively impacting the environment, he added.
On the occasion, both sides expressed a strong commitment to further collaborate for boosting agricultural sector of Pakistan through joint research and technical support with the ultimate goal of creating a strong economy.