ISLAMABAD, Sep 16 (APP): Pakistan tennis star Aisam ul Haq Qureshi outclassed David Agung Susanto of Indonesia in the first singles match of the Davis Cup World Group-II tie at Aisam-ul-Haq Tennis Pavilion, Pakistan Sports Complex Islamabad on Saturday.
Aisam played classic grass-court tennis to dominate his opponent throughout the match, winning the fixture in straight sets 6-1, 6-4.
In the second singles, experienced Pakistan No.1 Aqeel Khan beat Gunawan Trismuwantara 7-5, 6-4 in an exciting match. Gunawan served for the first set at 5-4, but Aqeel fought back gallantly to take the next three games, and the set 7-5. Aqeel broke his opponent early in the second set and kept control of the remaining set to win 6-4 and give Pakistan a 2-0 lead, going into the second day.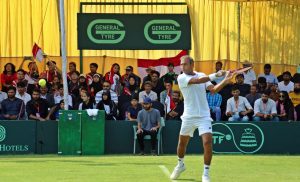 The compensations were watched by a good number of tennis enthusiasts and a sizable number of Indonesian supporters, which gave the event a festive look.
President Pakistan Tennis Federation Salim Saifullah Khan appreciated the top-quality tennis.
He congratulated the Pakistan team on their two wins on Saturday, and gave his best wishes for Sunday's matches, hoping the Pakistan team would continue the winning momentum.
Fixtures for Sunday:
DOUBLES: 11:00 am
Muhammad Shoaib/Muhammad Abid vs Gunawan Trismuwantara/Anthony Susanto
Reverse Singles: followed by
Aqeel Khan vs David Agung Susanto
Aisam ul Haq Qureshi vs Gunawan Trismuwantara