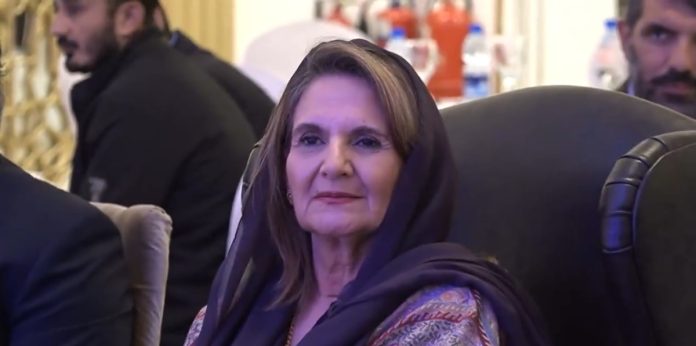 KARACHI, Jan 10 (APP): First Lady Begum Samina Arif Alvi Tuesday stressed the need of promoting the inclusiveness of differently-abled persons in all spheres of society and collective efforts were required to empower them socially and financially.
The inclusiveness of persons with disabilities (PWDs) was vital for the country's sustainable development of the country, she said, adding as over 12 percent of the population of Pakistan was facing disability in different forms or manifestations their participation must be ensured in all social, economic and political activities.
Begum Samina Alvi was addressing a certificate distribution ceremony for successful students of NAVTTC and SSC Inclusive Group organised by the Deaf Education and Welfare Association (DEWA) Trust here at DEWA Institute of Special and Inclusive Education.
She also called for an inclusive education system that "supports the learning of differently-abled children along with other children in general schools so that they can learn coping with difficulties of life". The teachers should be trained and the curriculum be improved to cater to inclusive education for children with disabilities, she added.
Samina Alvi said the first and foremost challenge that needed to be addressed was the public mindset and common behaviour of society toward PWDs which obstructed their growth and prospects of career building. She urged people to not disrespect or ridicule such persons but encourage and support their participation in educational, social, and economic activities.
She said reservation of 3 percent seats in general educational institutions for ensuring admission of differently-abled children following directives of the higher courts would promote inclusiveness in the education sector. Though a special quota in government jobs was reserved for the PWDs but measures were required for its implementation in toto, she added.
"We need to focus on equipping the special children with market-oriented technical and vocational skills, and professional training so that they instead of relying on others could be able to earn their livelihood and become a productive part of society and play a due role in development and prosperity of the country," she maintained.
She observed that there was a dearth of facilities and plenty of problems for persons with disabilities that hindered their career development even their social life. There was a need of providing ramps in buildings, public places, and transport facilities to promote the mobility of the PWDs, she added.
Begum Alvi, while referring to the recently enacted act about the use of sign language on electronic media, said the law made it mandatory for all the electronic media channels to engage sign interpreters for visual programmes and Pakistan Television had already started implementing it.
She also stressed working on the training of sign language to cater for the future human resource demand and ensuring the availability of sign interpreters.
She appreciated the Deaf Education and Welfare Association and the DEWA Academy for their efforts for the education and rehabilitation of differently-abled children, particularly the promotion of their inclusive education and urged the need for replication of the efforts by other educational institutions across the country.
Begum Alvi also lauded the role of media for spreading awareness and promoting the idea of inclusion of differently-abled persons, saying awareness played a significant role in the resolution of issues and bringing change in social behaviour.
DEWA Chief Executive Officer Rizwan Ahmed Lodhi said the institute had been working for the education and rehabilitation of special children for 50 years, and it was the first institution in South Asia to offer a graduation degree for students with hearing impairment.
The institute was also providing sports facilities and assistance to differently-abled children for getting employment, he said, adding there should be a special university and special educational institutions at the secondary and primary levels in all the cities and towns of the country.
Earlier, the students presented a tableau and National Anthem in sign language.
Samina Alvi distributed certificates to successful students of NAVTTC and to students who passed their secondary school certificate examination in the Inclusive Group. She also visited different sections of the institute to review facilities for special children.
APP/ali