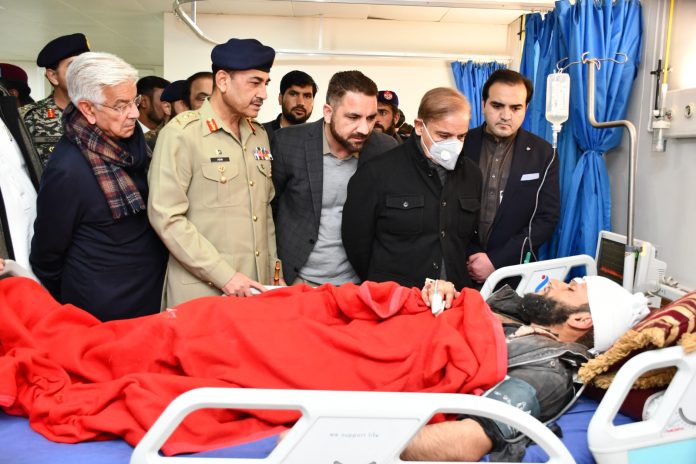 PESHAWAR, Jan 30 (APP):Prime Minister Shehbaz Sharif Monday said the cowardly terror attacks could not weaken resolve of the nation against terrorism and the miscreants and their facilitators involved in attacks on innocent citizens would be punished for their heinous crimes.
He was speaking during his visit to Peshawar after the deadly blast at the mosque of Malik Saad Shaheed Police Lines during Zuhr prayers.
Chief of Army Staff Syed Asim Munir received the prime minister on his arrival.
The PM was accompanied by Minister for Defence Khawaja Muhammad Asif, Interior Minister Rana Sanaullah Khan and Minister for Information and Broadcasting Marriyum Aurangzeb.
On this occasion, the Corps Commander Peshawar briefed the prime minister about the motives behind the terror attacks.
Inspector General Police Khyber Pakhtunkhwa Muazzam Jah Ansari gave the initial investigative report about the suicide attack on the mosque.
The PM was also shown CCTV footage of the suicide attack on the Police Lines mosque.
The participants of the meeting offered fateha for the martyred, sympathized with the bereaved families and prayed for the early recovery of the injured.
On this occasion, the prime minister said terrorists were attacking the security institutions which were defending Pakistan, adding the terrorists were making a nefarious attempt to create an atmosphere of fear and terror.
The strength of unity of institutions and people would foil the designs of terrorists, he said adding Pakistan had rendered great sacrifices against terrorism and sacrifices of the martyrs would not go waste.
Shehbaz Sharif said capacity of the anti-terrorism institutions and police would be enhanced and National Action Plan would be implemented comprehensively and with full force.
Meanwhile, the prime minister visited the Lady Reading Hospital to inquire after the persons injured in the blast.
The prime minister took rounds of different wards and met the injured. He directed the hospital administration to provide best medical facilities to the injured.
Speaking during his visit, he said those who shed blood of the worshippers could not be Muslims.
The criminals behind the terror attack would not be absolved by Allah Almighty, he remarked. He vowed to root out the terrorists.
He said attack on the innocent citizens during prayers in the mosque and in the name of Islam was worst of acts.
People of Pakistan had identified the real faces of the extremist elements who had a baseless ideology and were misinterpreting the religion, he added.
Earlier on his arrival at the hospital, the prime minister was received by caretaker Khyber Pakhtunkhwa Chief Minister Azam Khan, Adviser to the PM on Political Affairs Engr Amir Muqam, and Inspector General of Police Muazzam Jah Ansari.
Later in tweets, the PM said terrorism was the foremost national security challenge.