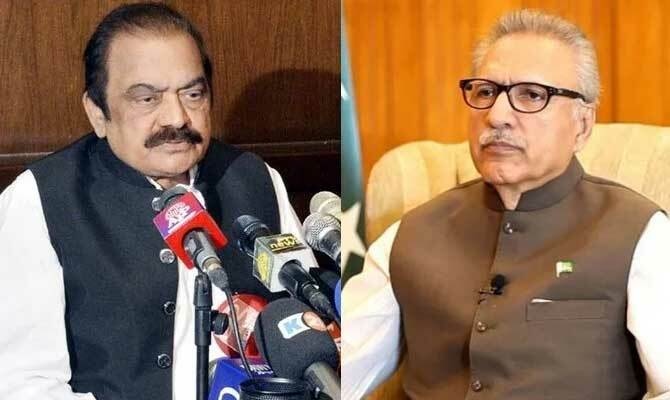 ISLAMABAD, Mar 24 (APP): Minister for Interior Rana Sanaullah Khan on Friday said President Dr Arif Alvi should "work in the constitutional domain" and better write a letter to Pakistan Tehreek-e-Insaf Chairman Imran Khan to return 190 million pounds to the national exchequer.
He should also seek answer from the PTI chief for "acts of terrorism", besides "accepting Tyrian as his daughter" and facing the Toshakhana and foreign funding cases in courts, he said while reacting to a letter written by President Alvi to Prime Minister Muhammad Shehbaz Sharif.
The minister said the president should not " act on the orders of Imran Khan and becomes his puppet". But unfortunately, "a person breaking the Constitution and law had been appointed to the constitutional position", he added.
He said the question arose why President Alvi did not act over violation of human rights when a person was arrested in a fake case of 15 kg of heroin.
Whether putting the opposition leader, and the sisters and daughters of political opponents in death cells were not the violation of human rights, he further questioned.
Rana Sanaullah said journalists were tortured during the Imran Khan-led government, which was also the sheer violation of human rights but the president remained silent at that time.
Similarly, he also questioned the president's silence over human rights violations of policemen, who were targeted with petrol bombs, grenades and slingshots.