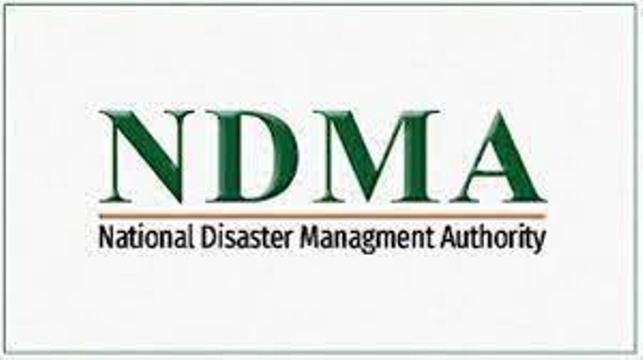 ISLAMABAD, Mar 20 (APP): The National Disaster Management Authority (NDMA) on Monday issued detailed guidelines to the federal and provincial departments to ensure proper preparedness measures amid rain, wind-thunderstorm forecast.
The NDMA advisory received here mentioned the Pakistan Meteorological Department (PMD) weather advisory stating more Rain-Wind and Thunderstorms (with Heavy Falls) were expected from March 21-24 (Tuesday to Friday).

It added that the PMD had informed that a strong westerly wave was likely to enter from March 21, gripping most parts of the country on March 22.

The weather system, it said, might cause widespread rain-wind and thunderstorms with isolated and scattered heavy falls and hailstorms in Islamabad as well as the Balochistan, Khyber Pakhtunkhwa, Punjab, Sindh, Gilgit-Baltistan, and State of Azad Jammu and Kashmir (AJK).

The NDMA advisory noted that all concerned stakeholders were to remain vigilant against possible hazards.
It highlighted that the strong winds and hailstorms might cause damage to loose infrastructure and standing crops in the country.

Moreover, the heavy rains might cause flash floods in Quetta, Chaman, Pishin, Barkhan, Musakhel, Kalat, Khuzdar, Naseerabad, Jaffarabad, Kohlu, Zhob, Sibbi, Turbat, Awaran, Panjgur, hill torrents of D.G Khan on March 22-23 March while in Dir, Swat, Kohistan, Nowshera, Mardan, Waziristan, Bajaur, State of AJ&K and urban flooding in Peshawar, Islamabad, Rawalpindi and Lahore on March 23-24.

It added that landslides might occur in hilly areas of Khyber Pakhtunkhwa, Gilgit-Baltistan, State of AJK, Murree and Galliyat regions during the forecast period. However, the day temperature was likely to fall significantly during the spell.

Keeping in view the above risks, all the provincial disaster management authorities (PDMAs), Gilgit Baltistan Disaster Management Authority (GBDMA), State Disaster Management Authority (SDMA) and the Islamabad Capital Territory (ICT) Administration, National Highway Authority (NHA), National Highways and Motorway Police (NHMP), Frontier Works Organization (FWO), Rescue 1122, line departments, ministries and federal agencies were required to undertake measures as per respective mandate.

Moreover, ensure the provision or rectification of utility services during the forecast time period and the presence of required staff and machinery for meeting any eventuality of likely urban flooding situation in the cities.

The people in at-risk or vulnerable areas; travelling on roads likely to be damaged by flash flooding must be diverted to alternate routes and those in low-lying areas must be moved to safe areas.

Moreover, coordinate with relevant district and municipal administrations to ensure mitigation measures for flash and urban flooding and to secure or remove billboards and hoardings in view of thunderstorms or high winds.

And also ensure adequate awareness for farmers regarding impacts on standing crops, engage local communities at traditionally or historically dangerous or hazard-prone sites to enable round-the-clock monitoring and establish feedback mechanism for early warnings and alerts for an at-risk population.

The PDMA and DDMAs to arrange and replace necessary inventory and other essentials at strategic locations and vulnerable choke points in coordination with NHMP, NHA, FWO, local construction and works (C&W) departments, Rescue 1122 and line departments. The stakeholders concerned were directed to ensure a proactive approach by diverting traffic, providing alternate routes, and imposing move or travel restrictions, to avert any situation of road closure with stranded people.

The local administrations were directed to assess and plan the deployment of additional resources and exercise control over traffic leading to and in the vicinity of vulnerable, choke points, tourist spots, and attractions to prevent losses, and damages and save precious lives.

Moreover, they should ensure that tourists, visitors and travellers in at-risk or affected areas be apprised and forewarned about forecasted weather and road conditions in coordination with NHMP, law enforcement agencies (LEAs), NHA, FWO and C&W.

It also advised the tourists, visitors and travellers to check PMD Weather Forecast for information on snowfall or rain and for road conditions, landslides, and high flow in seasonal nullahs from control rooms, helplines, websites and social media platforms of NHMP, NHA, FWO, DDMAs, PDMAs and C&W before undertaking journeys.

The NDMA advisory noted that the travellers on Provincial and National Highways in at-risk or affected areas be forewarned of adverse conditions and detoured to safe waiting areas under the guidance of respective PDMAs, Local Authorities, NHMP, LEAs etc.

It also demanded the quarters concerned to ensure the availability of emergency services personnel during the forecasted period, and ensure immediate stocking of basic commodities, especially in regions that were likely to get cut off during snowfall or landslides.

Moreover, medical resources including paramedics, equipment and medicine should be deployed as per the vulnerability or risks identified in different regions to meet respective regional requirements.

The departments were also advised to ensure round-the-clock monitoring of the situation through emergency operations centres (EOCs) with regular feedback from provincial and national emergency operations centres (PEOCs and NEOC respectively).