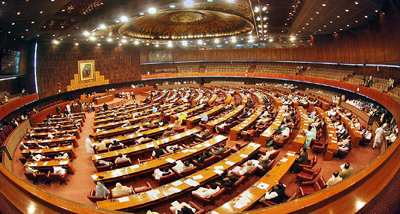 ISLAMABAD, Feb 06 (APP): The National Assembly (NA) on Monday offered Fateha for the departed souls of former President General (Retd) Pervez Musharraf and the earthquake victims in Turkiye and Syria.
Deputy Speaker Zahid Akram Durrani, before taking up the business of the house, asked the Muttahida Qaumi Movement (Pakistan) Muhammad Abubakar to lead the Fateha.
Abubakar prayed for the high ranks, of the deceased former president, in Jannah, and for the people who had lost their precious lives in the natural calamity that occurred in Turkiye and Syria.
Former President General (Retd)Pervez Musharraf passed away in Dubai on Sunday after a prolonged battle with the rare disease amyloidosis. He was 79.
In addition, the magnitude 7.8 earthquake has killed almost 2,400 people in Turkiye and Syria till the last media reports on Monday.