ISLAMABAD, Nov 21 (APP): Caretaker Federal Minister for National Heritage and Culture Syed Jamal Shah Tuesday reiterated the launch of a new heritage channel, Virsa, dedicated to showcasing dramas in Punjabi, Sindhi, Balochi, Pushto, and other languages.
The minister expressed these views in a meeting with Managing Director of Associated Press of Pakistan (APP) Muhammad Asim Khichi, during his visit to the offices of premier news agency where he was briefed about the organization's efforts to promote local languages and the country's rich cultural heritage.
He emphasized the importance of culture and heritage in fostering unity in diversity.
The APP MD assured the minister his organization's full support for the launching of Virsa Channel. He highlighted the pivotal role of films and dramas in educating the younger generation and shaping societal values.
The minister expressed concern over the decline of drama production in the country, stressing the need to revive the local drama industry instead of airing foreign content.
He said that no country could move forward unless its people had a strong cultural identity connecting them to their motherland.
Shah also discussed his ministry's plans to revive cultural sites in Islamabad, which could be used as platforms by artists to showcase their talent.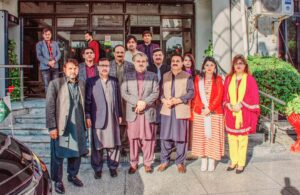 He said the caretaker government's tenure was short, but he wanted to take some good initiatives that the elected government could continue.
Shah said after the 18th Amendment, heritage sites were given under the control of provinces. "Our ministry wants to work with the provinces to preserve these sites," he added.