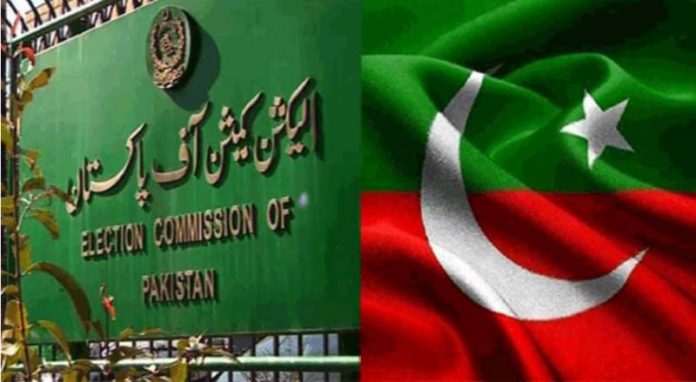 ISLAMABAD, Jan 17 (APP): The Elec­tion Commission of Pakistan (ECP) on Tuesday de-notified 35 more Pakistan Tehreek-e-Insaf's (PTI) members of the National Assembly (MNAs) following the acceptance of their resignations by NA Speaker Raja Pervaiz Ashraf.
According to an ECP notification, 33 general and two reserved seats of the National Assembly were now deemed vacant.
The 33 MNAs de-notified, include Murad Saeed, NA 04; Omer Ayub Khan, NA 17; Asad Qaiser, NA 18; Pervaiz Khattak, NA 25; Imran Khattak, NA 26; Sheharyar Afridi, NA 32; Ali Amin Khan, NA 38; Noor ul Haq Qadri, NA 43; Raja Khurram Shahzad Nawaz, NA 52; Ali Nawaz Awan, NA 53; Asad Umer, NA 54; Sadaqat Ali Khan, NA 57; Ghulam Sardar Khan, NA 59; Sheikh Rashid Shafique, NA 60; Sheikh Rashid Ahmed, NA 62; Mansoor Hayat Khan, NA 63; Fawad Ahmed, NA 67; M Sanaullah Khan Mastikhel, NA 97; Muhammad Hammad Azhar, NA 126; Shafqat Mehmood Khan, NA 130; Malik Muhammad Amir Dogar, NA 155; Makhdoom Shah Mehmood Hussain Qureshi, NA 156; Zartaj Gul,NA 191; Faheem Khan, NA 241; Saif ur Rehman, NA 242; Muhammad Alamgir Khan, NA 243; Syed Ali Haider, NA 244; Aftab Hussain Shafique, NA 247; Attaullah, NA 250; Aftab Jehangir, NA 252; Muhammad Aslam Khan, NA 254; Muhammad Najeeb Haroon, NA 256 and Muhammad Qasim Khan Suri, NA 265.
Aliya Hamza Malik and Kanwal Shauzab, who were elected as PTI MNAs on reserved seats for women from Punjab, were also denotified.