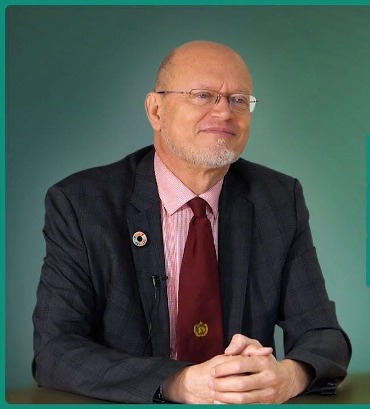 ISLAMABAD, Mar 27 (APP): Former vice-chair of Intergovernmental Panel on Climate Change (IPCC) and award-winning science commentator, Prof. Jean-Pascal van Ypersele who is also a candidate for the upcoming IPCC chair election said that solar radiation management was a premature technology and had huge risks associated to it.
"It is a big illusion to think that strategies to mitigate climate changes can be simply replaced by adopting solar radiation management," he emphasized.
In an exclusive interview with APP, Dr Jean-Pascal van Ypersele said the IPCC, in its past three reports, had warned on the potential impacts of solar radiation management.
The former IPCC vice-chair vowed to transform the global climate science forum into the world's strongest and rigorous global voice of climate change.
Prof. van Ypersele is contesting for the chairmanship of the IPCC for the second time. Earlier, he lost the polls to the Republic of Korea's Hoesung Lee and had managed to receive the second highest votes. Prof. van Ypersele has the official support of the Belgian government for his candidacy.
He has experience of four decades in climate science and diplomacy. He remained IPCC vice-chair from 2008-2015 and has been active at the forum since 1995. Prof. Jean-Pascal van Ypersele said he had set a clear cut agenda of taking the IPCC to new heights of excellence and glory as the global environmental body.
He said it is a useful and relevant body for all kinds of decision makers including businesses, policy makers, media, teachers and common people etc. Prof. van Ypersele said the decisions taken by the relevant stakeholders had serious repercussions and impacts that needed to be guided through proper and accurate science based data. He also expressed his intentions to turn the institution into an all inclusive institution.
Dr. van Ypersele said the IPCC is an intergovernmental organisation involving a variety of scientists who know the reality of their regions and that it was important to involve as many developing country scientists as possible so that the IPCC could have a holistic view of both the climate challenges and its solutions.
He mentioned that he had the experience of working in an inclusive manner whereas inclusivity according to him meant in particular gender equality and a better developing country scientists' participation. Moreover, he also underlined the need to create better balance between young scientists who had innovative and new ideas and senior scientists having more experience and wisdom.
He added that the paramount principle of IPCC should be respect for all, making the working environment as collegial as possible because the IPCC had people from different regions and cultures. "I want to take IPCC to new heights of glory as it already had received a Nobel Peace prize.
I believe we can still serve the needs of international community better. The IPCC needs to be a strong voice to raise the awareness and to fill those gaps in effective action and funding on climate change. It's not the mandate of the IPCC to fill those gaps, whereas it can work in partnerships for the cause with not only the UN and donor agencies but with everybody," he said.
Responding to a query on slow climate action despite globally acknowledged and convincing scientific data on environmental degradation due to global warming, Prof. van Ypersele said this question should be part of the subject of the next IPCC report as there was much evidence on climate which was not translated into action.
Dr. van Ypersele said another side effect of solar radiation management is potential impact on monsoon stability and the health of the ozone layer. Being a strong supporter of the global target of limiting earth warming below 1.5°C to avert worst climate impacts such as heat waves and floods, Dr. van Ypersele said if carbon dioxide (CO2) emissions are left unattended to spike up in business as usual fashion then it will have wide ranging effects causing worst climate catastrophes.
He added that out of the total annual global CO2 emissions of 40 billion tonnes through human activities such as burning coal, oil, or gas, some 10 billion tonnes were absorbed by the ocean and 10 billion tonnes by the forests and soils and the remaining accumulates in the atmosphere which is the main reason the global temperature increases. He added that the CO2 absorbed by the ocean acidify the ocean water. "This is not good for marine life, and solar radiation management would not help at all if the CO2 emissions are not strongly reduced," he said.
To a question, he said the nomination for scientists to contribute to the writing of IPCC reports is mostly done by the governments but it also rests on professional associations and groups to spread the knowledge about this nomination process.
"We can improve this process by promoting more awareness on it in the developing countries. For the 5th IPCC Assessment Report, we got 3,000 CVs and only 831 have been selected. Increasing the number of good CVs from developing countries will be one of my priorities as Chair of IPCC."