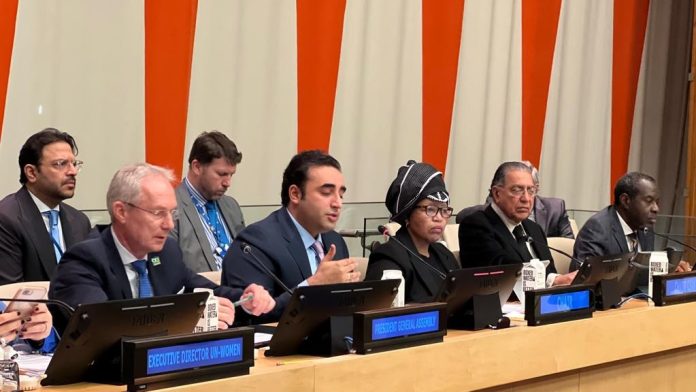 UNITED NATIONS, Mar 08 (APP): Foreign Minister Bilawal Bhutto Zardari Wednesday opened a Pakistan-sponsored conference on 'Women in Islam', with a spirited call to Islamic countries to lead the way in building a common future for humanity where the empowerment of women and gender parity underwrite a new peaceful, prosperous, and inclusive world order.
"We have convened this conference to dispel the deep misperceptions that exist about the rights, roles and identity of women in Islam," he told ministers and senior officials from around the world participating in the conference being held on the sidelines of the Commission on Status of Women (CSW) at the UN headquarters in New York.
The foreign minister said the caricature that dominates the perception of women in Islam and the Muslim society was one painted on the ignorance of the Islamic history and roles that women had played. "This caricature is a result that the perception of our religion has largely been hijacked after 9/11 by extremists who do not represent our faith and I feel a special responsibility to counter this propaganda and perception.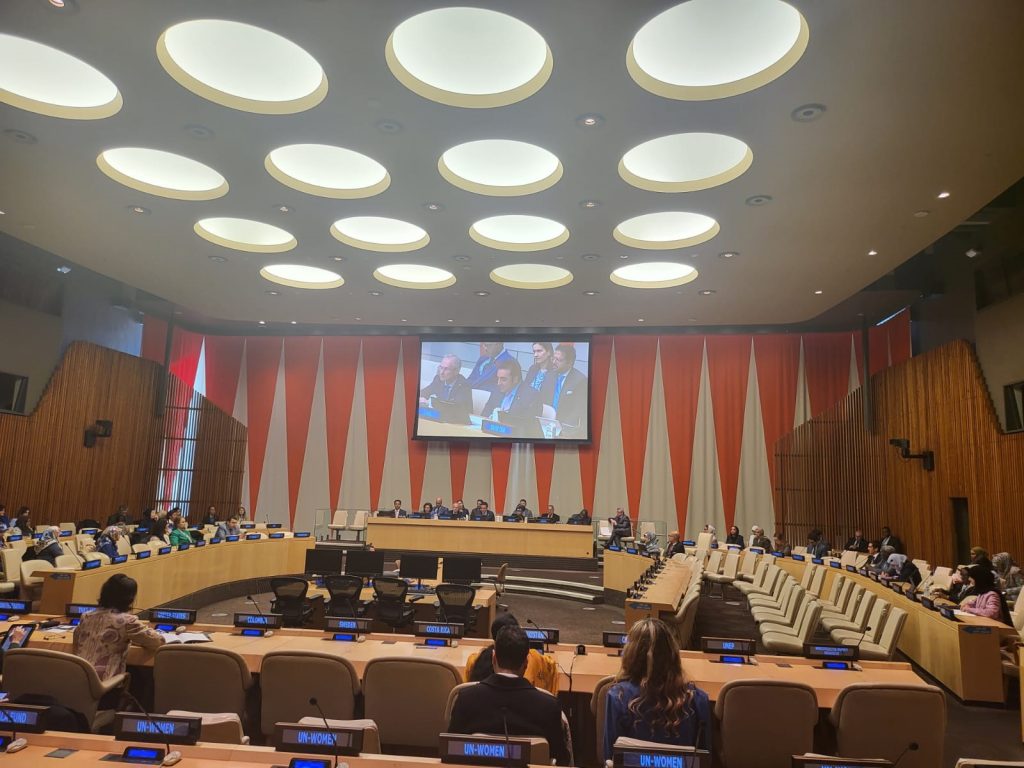 "It offends me as a Muslim and a Pakistani to the core of my heart that the face of Islam unfortunately in much of western public perception are the likes of Osama Bin Laden and not of the likes of Shaheed Mohtarma Benazir Bhutto," he added.
For a fuller understanding, FM Bilawal said, it was essential to distinguish between Islamic principles and law, and social practices espoused by some patriarchal societies. It was a distinction that xenophobes, Islamophobes and obscurantists would not like to make because "they believe in discrimination, a first step towards tyranny".
He said,"Islam forbids injustice against people, nations, women. It shuns race, colour and gender as a basis of distinction among persons."
"Islam treats women as human beings in their own right, not as chattel," FM Bilawal said as the world celebrated International Women's Day. Under Islamic law and tradition – the Sharia, he said a woman had an independent social and legal identity and enjoys civil, political, economic, and cultural rights as well as inherit, divorce, receive alimony and child custody.
During the opening session, the President of the UN General Assembly, Csaba Korosi, made his opening remarks followed by the Executive Director of the UN-Women, Sima Bahous, the Chairperson of the CSW, Ambassador Mathu Joyini and Ambassador Hameed Ajibaiye Opeloyeru, OIC Observer Mission to the UN, who delivered a message on behalf of Secretary-General of OIC, Ambassador Hissein Braham Taha. A recorded message of UN Deputy Secretary-General Amina Mohammed was also played. She conveyed her greetings to the conference on behalf of herself and Secretary-General Antonio Guterres.
In his keynote address, FM Bilawal said,"Islamic history attests to the outstanding role played by Muslim women in all walks of life – education, enterprise, economics, politics and governance."
He pointed out that Prophet Muhammad (Peace be Upon Him) declared that the pursuit of knowledge is incumbent on every Muslim, male and female. In that regard, he said, Fatima al-Fihri founded the world's oldest continuously operating educational institution in 859 AD.
"Muslim women have been agents of change in their societies. Islamic history is replete with examples of illustrious women: Hazrat Khadija (R.A.), a women business entrepreneur; Hazrat Ayesha (R.A.), a scholar and preacher; Hazrat Zainab Bint Ali (R.A.), a brave fighter, participant and survivor of the battle of Karbala; Hazrat Rabia Basri, a Sufi mystic; Shuhdah al-Baghdadiyyah, a scholar and calligrapher; Fatima al-Samarqandi, a scholar and jurist."
Even today, he said, millions of Muslim women continued to dominate multiple fields – politics, education, health, science, commerce- in Muslim societies, citing Megawati Sukarnoputri, the first Muslim female President (of Indonesia), Najla Bouden, Prime Minister of Tunisia; Tansu Çiller, Prime Minister of Turkiye, Elsafty, a computer scientist at the University of Cambridge; Anousheh Ansari, first Muslim space explorer and astronaut, and Malala Yousufzai, the youngest Muslim girl to have won the Nobel Prize.
In Pakistan's history, the foreign minister said , Quaid-e-Azam Muhammad Ali Jinnah's sister was at the forefront of the independence struggle and in the struggle for democracy.
"My mother, Mohtarma Benazir Bhutto Shaheed, was he first Muslim female Prime Minister," he said underscoring that she was elected to office by a huge majority, after a long and difficult struggle against dictatorship." He spoke of the wide-ranging reforms she carried out during her premiership that empowered women of the country.
"She has been a source of inspiration, for the women of Pakistan, for the women of the Islamic countries, and for women – and men – across the world and across generations," FM Bilawal said.
"It is my mission to ensure that her demand for the rights of women – and men – of Pakistan is fulfilled – the right to justice and equality, freedom and prosperity.
"Like countries around the world, we have made progress. And like countries around the world we face many problems that we have to overcome today ," the foreign minister said.
Women in Pakistan, he said, had held prominent positions in every facet of life: as cabinet ministers, the Governor of State Bank, Speaker of National Assembly, judges in the superior judiciary and as federal and provincial secretaries to the government, district commissioners and district police officers, army generals, fighter pilots, ambassadors, and UN peacekeepers.
"In the context of the progressive and enlightened message of Islam, it is but natural for Pakistan – and other OIC countries – to express our deep disappointment at the restrictions imposed on the human rights of women and girls, especially their right to education and work, in Afghanistan," the foreign minister said, emphasizing those restrictions were contrary to the injunctions of Islam.
"I sincerely urge the Afghan Interim Government to reverse these restrictions and enable the women of Afghanistan to make their full and invaluable contribution to the development and progress of their nation."
"Nor can we ignore the plight of the millions of Muslim women living in non-Muslim countries who face obstacles in the enjoyment of their rights, including their right to freedom of religion," he said, adding that the Hijab ban in some countries was a denial of their freedom.
"We must counter the denial of religious and cultural rights to Muslim women in non-Muslim societies and negative stereotyping and discrimination against Muslim women," FM Bilawal said, as they were manifestations of Islamophobia.
"Nor can we forget the suffering of Muslim women in situations of conflict and foreign occupation, such as in Palestine and Occupied Jammu and Kashmir," the foreign minister added.