ISLAMABAD, Sept 07 (APP): Ambassador of Pakistan to Turkiye Dr. Yousaf Junaid said that 16-day 1965 war had left a lesson that peace-loving, brave and self-respecting nations, determined to sacrifice lives for their country could not be defeated by force and belligerence.
"Over the last 76 years, three major wars, several skirmishes and numerous rounds of unprovoked clashes have been imposed on Pakistan. India continues its illegal military occupation of Jammu and Kashmir and deny the right of self-determination to Kashmiris against every norm of international law and the resolutions of the United Nations Security Council," the ambassador said during a Pakistan's Defence and Martyrs Day reception held at Pakistan House in Ankara.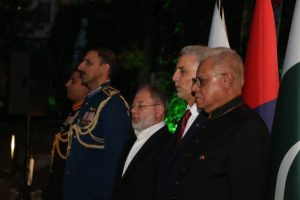 Turkish Minister of Trade Prof. Dr Omer Bolat graced the occasion as chief guest and Commander Turkish General Staff (TGS) General Metin Gurak as guest of honour.
The event was marked with enthusiasm and patriotism, in which tribute and homage were paid to the indomitable courage of the armed forces and martyrs who sacrificed their lives in successfully defending the motherland, when Indian forces crossed the international borders with full might in 1965, a press release said on Thursday.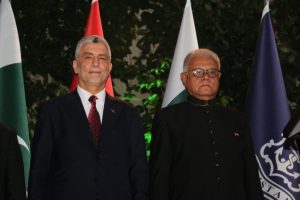 High ranking Turkish civil and military officials, ambassadors, members of the diplomatic corps, defence & military attaches, media persons and members of Pakistani community attended the reception.
Ambassador Junaid reiterated that Pakistan was committed to regional peace and security and has contributed significantly in global campaigns against terrorism and peace-keeping missions all over the world.
Pakistan believed in a constructive engagement, resolving issues through dialogue and peaceful co-existence, he stressed and thanked the Turkish nation for standing with Pakistan and Pakistani people through thick and thin.
In his remarks, Turkish Minister of Trade Prof. Dr Omer Bolat appreciated exemplary and historic bilateral relations, in particular the flourishing defence ties and excellent cooperation between the armed forces of the two countries.
He underscored that strategic and comprehensive Pakistan Turkiye bilateral relations were an important factor towards promoting peace and stability in the region and beyond.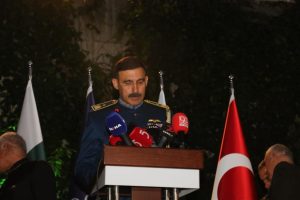 While highlighting strategic Pakistan Turkiye partnership, Commander Turkish General Staff (TGS), General Metin Gurak paid tribute to the sacrifices of the martyrs and valour of Pakistan armed forces.