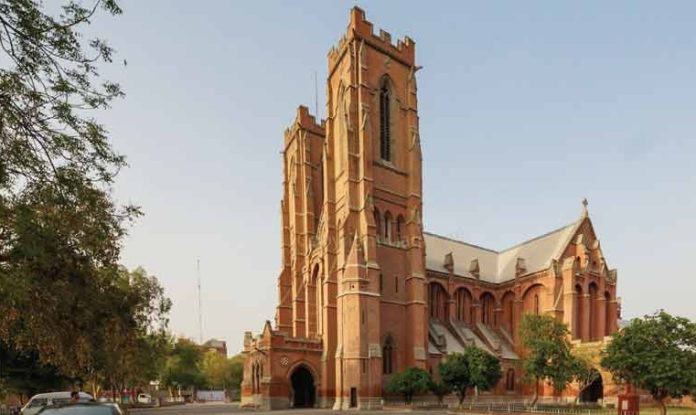 LAHORE, Jan 29 (APP): Once a center stage for Mughal emperors and the Sikh dynasty after Delhi, Lahore enjoyed unmatched status due to its peculiar grand and awe-inspiring cultural heritage revealing centuries-old civilizations.
Filled with some four centuries of majestic, far more than any other single city in Pakistan, Lahore has been boasting of the standards set by Mughal rulers through great edifices constructed to manifest their dignity and relics.
After Mughals (1526–1799); the Sikh (1799–1849) and the British rulers (1849–1947) continued adding to the beauty of this city by constructing serene tombs, mosques, gardens and other buildings that attract millions of tourists each year.
But as the time took its course and many among of the grand pieces of architecture either faded away or totally disappeared from the map of this historic city with a few fast losing their beauty.
Tombs of Empress Nur Jahan, Nadira Begum and Khan-e-Jahan Bahadur Kokaltash are among those few surviving against changing weathers and climatic impacts needing urgent attention of authorities.
The Tomb of Nur Jahan, a 17th-century mausoleum, is built nearby the tomb of Emperor Jahangir, Asif Khan and Akbari Sarai. The red sandstone mausoleum forms part of an ensemble of monuments in Lahore's Shahdara Bagh.
Nur Jahan's tomb was separated from other monuments by open fields which were later interrupted by construction of the Lahore-Peshawar Railway Line during the British era, damaging its beauty.
As the time passed, floors and walls of the tomb incurred damage with geometric and floral patterns lining the monument's domes eroding and edges of marble flooring chipping off due to improper care of this edifice.
Nafees Omer, an artisan working on the site revealed that bringing this architecture to original form was a gigantic task as compared to an easy task of constructing something afresh.
"The tomb stands in the center of a Persian-style Chaharbagh. The original landscape and premises that included roses, tulips, and jasmine gardens, no longer survive," Nafees said.
Another edifice is the tomb of Nadira Begum, wife of Dara Shikoh who served as the governor of Lahore during the 1640s. In 1659, Dara Shikoh lost a war against his brother Aurangzeb and tried to flee to Iran along with his wife.
But, Nadira died of exhaustion and dysentery during journey and was buried in Lahore near the shrine of Hazrat Mian Mir, whom they both considered their "spiritual guide."
A marvelous tomb was built in her memory that today stands in a dilapidated condition and is believed to be robbed of all semi-precious stones and costly marble during Ranjit Singh's regime.
"The tomb, later on, fell prey to contemporary deterioration and vandalism, evident from gaudy graffiti on the mausoleum, with the ugly look of wall chalking," said Mohsin Raza, a resident of Mian Mir locality.
Comparatively unlike other Mughal tombs, this tomb was neither surrounded by gardens nor it had a dome and was built in a sunken water tank.
"Today it is in an overall dilapidated condition and is direly needed to be repaired besides refurbishing old missing calligraphy work," Mohsin said.
Then there is tomb of Khan-e-Jahan Bahadur Kokaltash. In contrast to many other buildings of that period, this octagonal tomb was composed of cut brickwork without any use of red sandstone.
It also appears miserable due to countless holes in facade and dome and the marble work that was stripped away with the passage of time.
The traces of tomb's original elegance are still witnessed in beautifully carved stucco muqarnas (stalactite squinches), embellishing tops of the outer alcoves as its overall design is similar to Ali Mardan Khan's tomb located a few kilometers to the North.
The dome of this monument was later repaired by the archaeology department, supporting it by a modern design brick pillar. But, muqarnas at the tops of alcoves are still damaged and need urgent restoration and renovation.
Commenting on the situation, Director General Walled City of Lahore Authority (WCLA) Kamran Lashari informed that the Authority had been diligently working for years on numerous conservation projects for preserving and reviving the glory of Mughal-era buildings.
"Over the years, we have been working on various architectural projects and gone a long way in restoring the heritage in this historic city," Lashari said.
"Lahore has World Heritage sites comprising around 2,000 wonderful buildings. These buildings display a wide range of architectural features that reflect Lahore's centuries-old heritage," he added.
Lahore, being the largest and an important city in Punjab province had witnessed many eras, dynasties and rulers. Each dynasty or ruler left behind rich relics of culture and traditions.
The Tombs of Nur Jahan, Nadira Begum and Khan-e-Jahan Bahadur Kokaltash are the wonderful jewels in the crown of this centuries-old city. But, their depletion pains historians, art lovers and tourists.
Although the Punjab government has allocated Rs 600 million ($5.5 million) for fiscal 2022-23 for repairing and conserving archeological sites across the province including Lahore city, yet spending a bit more and paying proper attention could open avenues of earning more and more revenue.