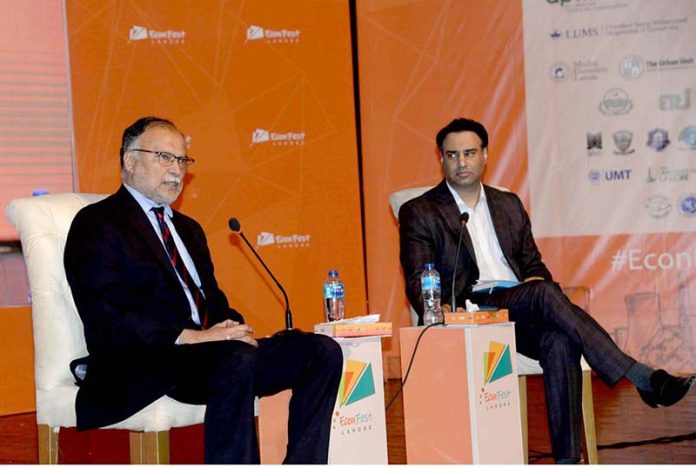 LAHORE, Mar 11 (APP): Federal Minister for Planning Development and Special Initiatives Ahsan Iqbal has said that political stability and continuity of policies are vital for ensuring country's progress.
He said this while addressing the Econ Fest on 'How to turnaround Pakistan' at Alhamra on Saturday.
He said that in current circumstances of the country there was no single leader, party or institution which could alone steer the country out of existing challenges adding that if we wanted to move forward there was a need to learn the science of collaboration. Country needed unified solutions for its problems, he added.
He said that when he was studying in engineering university, he got a chance and was elected as president of students union and through this experience he had learnt that public leadership could play significant role in bringing social change.
He said, "public service requires a passion and conviction and is a great virtue."
He said that Pakistan could turn all dreams of youngsters into reality, but it took someone with dedication, determination and hard work.
Ahsan Iqbal said that political stability and social harmony were essential elements for ensuring progress and prosperity.
If there was a conflict in society then no policy could yield positive results, he maintained.
He said, "If we look back at country's history our policies always remained progressive."
He said that Japan, South Korea, Malaysia, Thailand, Singapore, China, Bangladesh, Vietnam and Turkey were countries which had made speedy progress during last 50 years.
Minister said, "a policy needs minimum ten years to get successful". He said that unfortunately Pakistan had dropped three catches, first in 1960's, second in 1991 and third in 2017 adding that during these times country could made enormous progress but it did not happened.
He said that China Pakistan Economic Corridor was the big project which had changed country's profile altogether but unfortunately in 2018 government changed policies. Chinese investment was scandalized, he added.
He said from 1947 to 2013 only 18,000 megawatts energy was produced in the country and in four years, PML-N produced and added 11,000 megawatts energy in the system, but unfortunately this effort was scandalized.
Ahsan Iqbal said once, he asked Dr Abdul Qadir Khan and Dr Ashfaq Ahmad about the success behind achieving their goal.
He said both apprised him that approach of shared vision, stability of tenure, following merit in recruitment, posting, transfer, investing on our people, and we were provided with resources all these things helped us to achieve our desired goal."
Minister said that now it was a high time that ownership of development agenda should be given to people as this would help in continuity of policies.
He said it was of utmost importance for the country to develop its export potential and there was a need to increase our tax to GDP ratio.
He said that 5E framework had been developed to stabilise country's economy in next two to three years.
Ahsan Iqbal said that 5E framework would provide a platform in achieving set goals.
The 5E framework includes exports enterprise & employment, e-Pakistan empowering youth, environment and food security, energy affordable & efficient and equity education health population, he added.
He also responded to the questions of some participants of the Fest Econ.