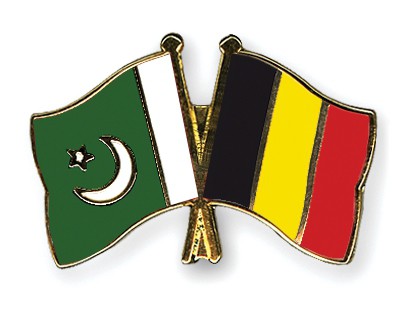 KARACHI, Jan 19 (APP): Pakistan and Belgium, on Thursday, agreed to further expand and deepen cooperation in information technology, agriculture, food processing, renewable energy and construction sectors.
The concurrence was reached at a meeting between Sindh Chief Minister Syed Murad Ali Shah and an eight-member Belgian parliamentary delegation led by Senator Allessia Claes here at CM House.
The Belgian delegation included Karl Vanlouwe, Philippe Courard, Georges Dallemagne, Les Engages, Ozlem Ozen, Ruben Vanhaverbeke and other diplomats while Sindh ministers Sharjeel Memon, Mukesh Chawla, and Qasim Naveed, and Chief Secretary Sohail Rajput also attended the meeting.
Murad Ali Shah said that Belgium was a traditional friend of Pakistan and a major trading and investment partner and mutual cooperation was based on shared values of democracy, pluralism, mutual respect, and trust as well as common interests.
Pakistan's Prime Minister had a constructive meeting with the Belgian Prime Minister on the sidelines of the UNGA in New York in September 2022, the CM said and termed parliamentary interactions important for enhancing bilateral ties as they not only promote people-to-people contacts but could also play a crucial role in advancing bilateral ties in areas like trade and commerce, as well as investments. He added that trade and economic ties comprised an important component of our bilateral relations.
Belgium was the 10th largest trading partner of Pakistan and bilateral trade between both countries had crossed
US$ 1.2 billion in 2021, Murad Shah said and stressed on the need to further expand cooperation in information technology, agriculture, food processing, renewable energy, and construction.
The CM invited Belgian investment in Special Economic Zones and said that Pakistan could provide professionals like engineers, technicians, computer scientists, and other skilled manpower in areas where there is a shortage in Belgium.
There was a huge scope for cooperation in the higher education and research sector the CM pointed out and said that Pakistani students were opting for Belgian universities for higher studies.
Pakistan was struck by the most devastating floods which affected more than 33 million people, Shah said and added "We are glad that the international community rose to the occasion and helped Pakistan in the initial phase of providing relief to the flood victims."
Murad Shah said the international community also expressed solidarity with Pakistan at the International Conference on Climate Resilient Pakistan held in Geneva recently and came up with generous pledges for rehabilitation and reconstruction work in a climate-resilient manner.
He appreciated the assistance provided by the Belgian Government for flood relief efforts in Pakistan.
It may be noted that Belgium has provided three hundred tents, a team of experts, and a water purification plant.