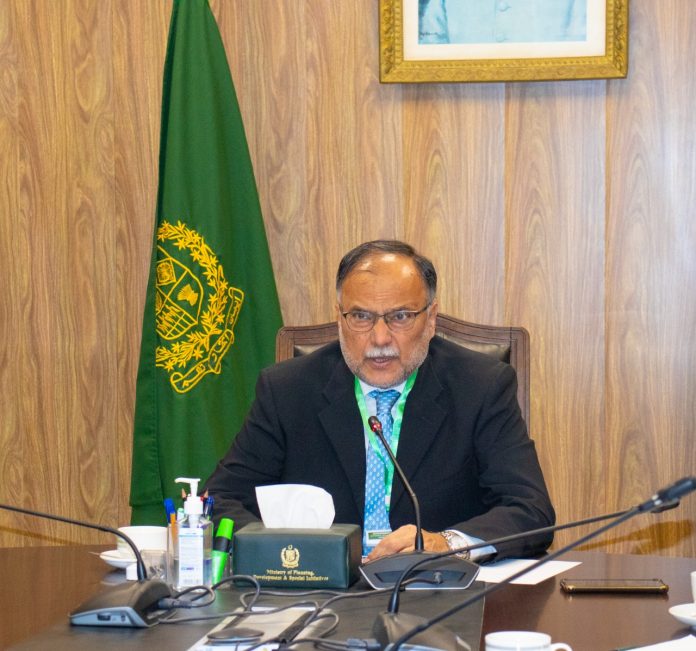 ISLAMABAD, Jan 26 (APP):The National Price Monitoring Committee (NPMC) on Thursday reviewed the prices of essential commodities while directing the Ministry of National Food Security and provincial governments to ensure inter-provincial coordination in order to avoid any shortage of daily commodities particularly wheat before the holy month of Ramazan.
"The Ministry of Food Security is responsible for inter-provincial coordination in order to avoid any shortage of wheat before Ramzan, " said Federal Minister for Planning Development & Special Initiatives, Ahsan Iqbal, while chairing the NPMC meeting.
The meeting was attended by the chief economist, Chief Commissioner, Islamabad, representatives from all provinces, Federal Board of Revenue FBR, Pakistan Bureau of Statistics PBS and Ministry of Food Security and Industries.
The food secretaries of all the provinces are directed to hold a meeting immediately with the Ministry of Food to review the progress of wheat across the country and to ensure its smooth production and supply, said the Minister.
During the meeting, the PBS officials gave a presentation over the price monitoring and inflation while representatives from Punjab, KP, Sindh and Balochistan apprised the forum over current production and supply of wheat and sugar.
The Minister directed the concerned stakeholders to closely monitor the price index and to ensure the forecasting in order to avoid any disruption in Ramazan.
Prof Iqbal also directed officials to take stern action against those involved in market hoarding and there should be zero tolerance against hoarders.
The Minister also directed the officials to ensure the supply of essential commodities keeping in view the demand which will be increased in the month of Ramzan.
The PBS is directed to submit a report of essential commodities, keeping in view the trends of the last three years so that the supply side could be managed accurately.
During the meeting, the Minister also expressed serious concerns over the increased prices of essential commodities in Islamabad Capital Territory ICT and directed the Chief Commissioner to control the prices immediately.
"There should not be too much difference between the prices of wholesales and retails items, " remarked the Minister, while directing the Chief Commission to deploy Assistant Commissions in respective areas to control the prices.
"Immediate measures need to be taken to control the prices of essential commodities and this is our top priority to provide maximum relief to the common man," said the minister.