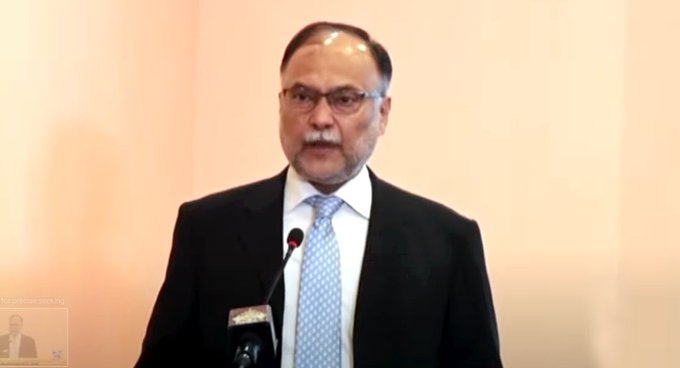 ISLAMABAD, Jan 26 (APP): Minister for Planning, Development and Special Initiatives Ahsan Iqbal on Thursday expressed the government's resolve for a turnaround of the national economy as it had done in 2013.
Addressing the inaugural ceremony of Inclusive Digital SDG's Knowledge Hub, the minister said the Pakistan Tehreek-e-Insaf (PTI) government had undone all the successes of the previous Pakistan Muslim League-Nawaz (PML-N) government, which had put the sinking economy back on track.
He said when the PML-N came into power in 2013, the country was facing the worst economic and power crises, with the menace of terrorism rampant. However, due to hectic efforts made by the PML-N government, the economy made a remarkable turnaround and was put on the path of development.
Foreign investment of billions of dollars came especially under the China-Pakistan Economic Corridor (CPEC) and numerous projects of socio-economic development were launched.
However, he said, the PTI government did the opposite, pushing back the country into the economic quagmire.
The minister said Pakistan had to face the worst climate change impacts last year when torrential rains and disastrous floods hit most parts affecting more than 3 million people.
The country was paying a huge price for the global emissions despite the minimum share of less than one percent, he added.
Ahsan Iqbal said the world would now have to show responsible behaviour to save natural resources for future generations.
For this purpose, he said, the United Nations approved Sustainable Development Goals (SDGs) for various sectors, which were mainly aimed at providing good quality of life to people across the globe.
Even before the SDGs' adoption by the UN, he said, Pakistan had already approved its National Development Goals under the Vision 2025 in 2014 in which all those goals (SDGs) were included.